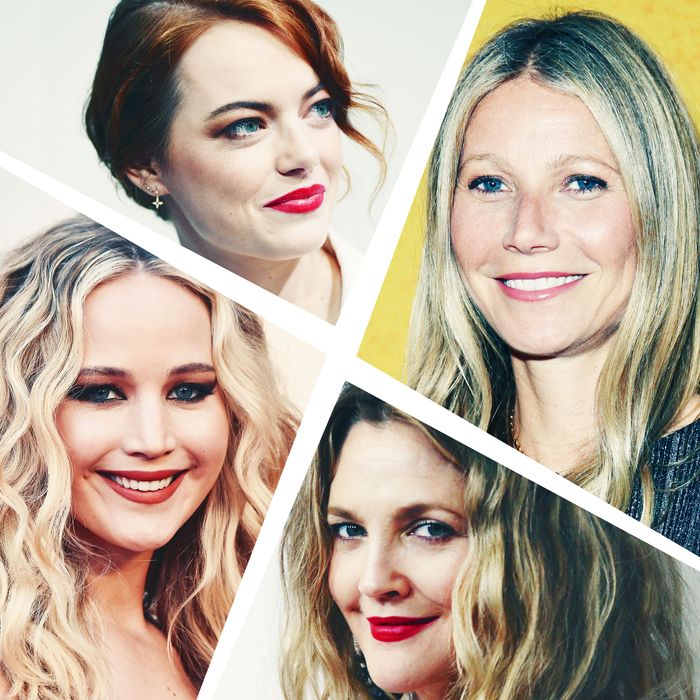 Jennifer Lawrence, Emma Stone, Gwyneth Paltrow, Drew Barrymore.
Photo-Illustration: Getty Images
In the past, when magazines wanted to interview a celebrity, they would send a reporter (not famous) to interview the artist (famous). This was a fine set up, because technically it's the reporter's "job" to "ask good questions" and "craft a story" and also describe what kind of salad the celebrity is eating and what kind of relaxed, laid-back sweater they're wearing. But at the end of the day, the reporter isn't a celebrity, so who cares!!!
Recently, several outlets — perhaps realizing that they had been junking up their content with the work of skilled and talented, but non-celebrity and therefore lesser, humans — solved this famous/not famous imbalance by simply having famous friends talk to each other. These new interviews are full of inside jokes, and compliments, and some questions … but mostly compliments.
This week, Jennifer Lawrence complimented interviewed Emma Stone for Elle and Drew Barrymore, Gwyneth Paltrow, and Cameron Diaz complimented talked to each other on the phone for InStyle. Earlier this month, Ruby Rose complimented interviewed Nina Dobrev for Byrdie, and Jennifer Aniston was complimented interviewed by her friend Molly McNearney, the head writer of Jimmy Kimmel Live! and wife of Jimmy Kimmel! for InStyle. And back in April, Blake Lively complimented interviewed Gigi Hadid for Harper's Bazaar.
If you would like, take some time to read all of those one by one, and find out how Jennifer Lawrence calls Emma "Emily," and how Drew Barrymore is on a juice cleanse and whether Gigi Hadid went to prom, please do. Or, just read the compliments questions below, and see if you can figure out which are real, blonde celebrity compliments questions words, and which have been made up by stinky non-fames. (Answer key below.)
1. You love ruminating.
2. You're an inspiration to so many people. How does that make you feel?
3. Do you remember that time? [Laughs] Oh man, you know the one.
4. I love your Instagram; it's so artistic.
5. I appreciate seeing you take the reins: You design for multiple brands, and you've been a photographer for high-end magazines and campaigns. Your "branding" and social media feel like something a marketing company would love to have come up with. But it's all you.
6. I love you so much. I swear, sometimes I just want to take a scalpel and cut your face off and wear it around like a mask so I can be closer to you, and see the world though your eyes. Well, actually I guess I'd have to pull your eyeballs out then, too.
7. You smell like pinecones and Cinderella. Care to comment?
8. You know I would put my life on hold to support what you're doing.
9. You know I would eat my baby for you. The good one, even. I don't care.
10. How about you get up on stage and make a margarita? You're really good at that. Tell us how.
11. I think the thing that I love about you the most is that you're so funny. I'm still not sure if people really know how funny you are. Like you could very easily be doing stand-up comedy.
12. Is it hard being an amazing artist and an amazing businesswoman and an amazing mom, and a perfect wife, and my best friend, and to always smell like sweet jasmine on a hot afternoon, and to have an inner glow that could sear retinas, and the thick, glossy hair of a colt, and a generosity of spirit that makes Mother Theresa look like a petty, selfish monster? Is that hard?
13. Oh my God should we get matching tattoos?
14. Every time I'm with you I marvel at the things that come out of your mouth — sometimes so funny and so dirty and then sometimes so profound.
15. [Sobbing]
16. Hamburgers or tacos?
Real: 1, 4, 5, 7, 8, 10, 11, 14, 16. Fake: 2, 3, 6, 9, 12, 13, 15.