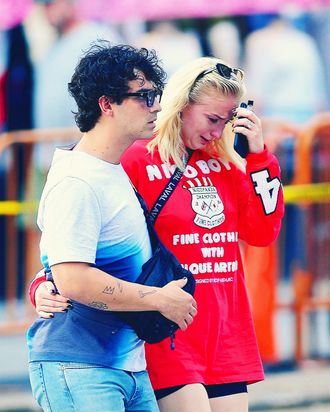 Joe Jonas and Sophie Turner.
Photo: ROKA/BACKGRID
There are a number of especially hot trends for today's young celebrity couples: Getting engaged after just months (or weeks!) of dating, shutting down all of your sweetie's critics, and openly weeping in public. Just a little over a week after Justin Bieber and Hailey Baldwin were photographed sobbing on Citi Bikes, another 20-something couple has partaken in the public display of overwhelming emotions: Joe Jonas and Sophie Turner.
Jonas, 29, and Turner, 22, were spotted walking around in Manhattan on Wednesday, which just so happened to be the former's last birthday of his 20s. It seems that the mood of Jonas's big day wasn't entirely celebratory, though — at one point, paparazzi photographed him consoling his fiancé, who was clearly having a rough go of it.
While the emotions that provoked Bieber's tears were arguably positive (he later told TMZ he had been moved by the meaning of marriage, as outlined in the book The Meaning of Marriage, which he had been reading the day before), the reason Turner was crying was decidedly less spiritual.
After photos of the incident started to circulate without context, prompting people on Twitter to engage in lots of speculation and ask Turner what had happened, she responded to a post: "Lol. Thank god I have a loving fiancé. Periods are a bitch."
And then another.
We'll be keeping our eyes on Pete Davidson and Ariana Grande, as well as Priyanka Chopra and Nick Jonas, in the coming weeks.