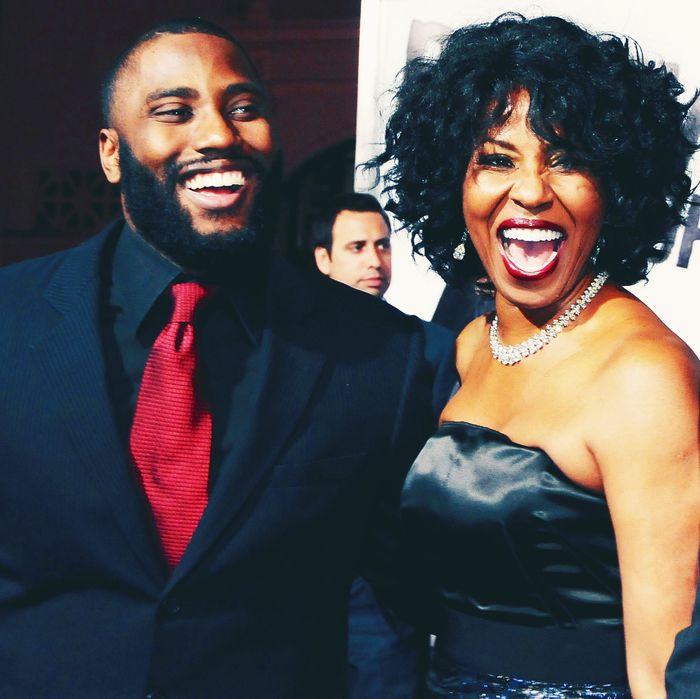 John David Washington and Pauletta Washington.
Photo: Gregg DeGuire/FilmMagic
As the son of one of Hollywood's biggest names, BlacKkKlansman star John David Washington, 34, inevitably gets questions about being "Denzel Washington's son." But, as tends to be the case, two humans were involved in the conception and rearing of John David, and even though only one of them is Denzel, both of them are extremely accomplished. In an interview with the Today show earlier this month, which has been recirculating because of a viral tweet from artist Boqor Riya, the actor interrupted reporter Craig Melvin's Denzel question to remind him of his mother Pauletta Washington's many achievements.
"As you got started in this business, being the son of Denzel Washington —" Melvin began.
"And Pauletta Washington," John David interjects, "Who was earning more money than he was when they married, before they got married. She was on Broadway working. She paid for their first date. She paid the bill, paid the cab ride. [She's a] classically trained pianist, went to Juilliard. She's a great artist in her own right, and I learned a lot from her. My father taught me how to hunt. My mother taught me how to love."
John David also told Melvin that initially, people's reactions to his dad's success turned him off acting, and he decided to pursue a career in sports instead. (Prior to acting, he played football for Morehouse College, and for the United Football League's Sacramento Mountain Lions.)
"As he started to become successful, people started changing around me. It gave me a little anxiety, resentment, anger … So all those emotions that were happening to me, I filtered them through this outlet — football."
Watch his full Today show interview below.