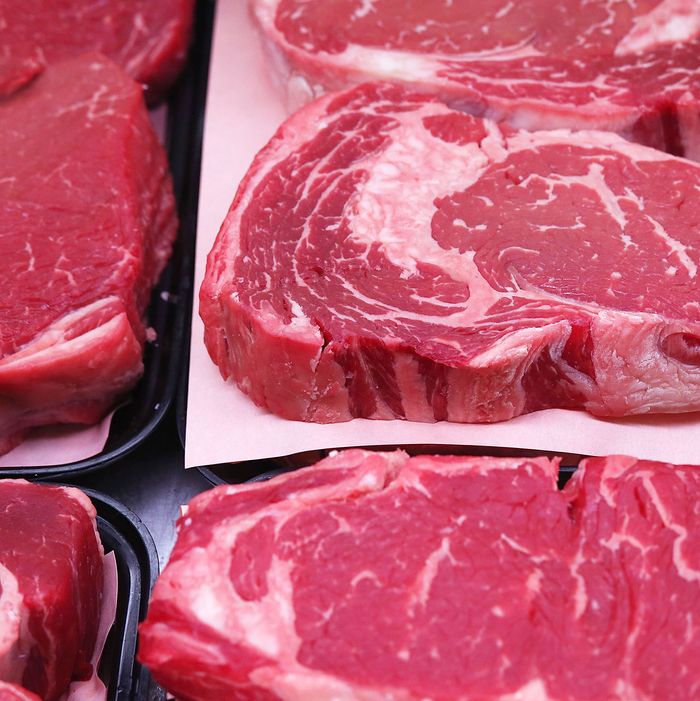 Photo: Justin Sullivan/Getty Images
In nearly every corner of the wellness and diet communities exist theories about various foods' effects on your mental health: How eating a ton of fat helps with anxiety, or how tomatoes can pull you out of a depressive episode. People, for lack of a more scientific phrase, go crazy for this shit — a fondness recognized by celebrity psychologist Jordan Peterson's 26-year-old daughter, who wants to tell you all about how meat can cure your depression, as long as you pay her for it.
Per a new report in BuzzFeed News, anywhere from 50,000 to 100,000 people visit Mikhaila Peterson's self-help blog, "Don't Eat That," every month. But sometime last week, after receiving an unprecedented number of fans' requests to talk about her personal health journey, she started doing $90 hour-long Skype consultations about her "carnivore diet." According to said regimen, which is an offshoot of the keto and paleo diets, all you have to do is eat beef three times a day — literally just beef, nothing else — and you'll be cured of whatever ails you. In Mikhalia's case, that was depression and arthritis.
"I'm here to lend an ear and to go into more detail about what made me feel better," she says on her website about the diet, which medical professionals have not yet endorsed.
It's unlikely that Mikhaila would have this sort of internet fame if it weren't for her free-speech-loving father, who blows the minds of millenial men with tips like "clean your room." He, too, says he beat depression after he started on a similar diet, which he once advertised on Joe Rogan's podcast.
"I lost 50 pounds," he told Rogan. "My appetite has probably fallen by 70 percent. I don't get blood sugar dysregulation problems. I need way less sleep." His depression and anxiety vanished; his mind was sharp. "And my gum disease is gone. Like, what the hell?"
In Mikhaila's mind, she's not diagnosing people — she's just speaking about her own experience, which she believes people have a right to know, especially if they decide to follow the carnivore diet. And hey, it sounds like the transition from a balanced diet to a carnivore one is relatively smooth! Mikhaila only had diarrhea for the first six weeks of the diet — no big deal.