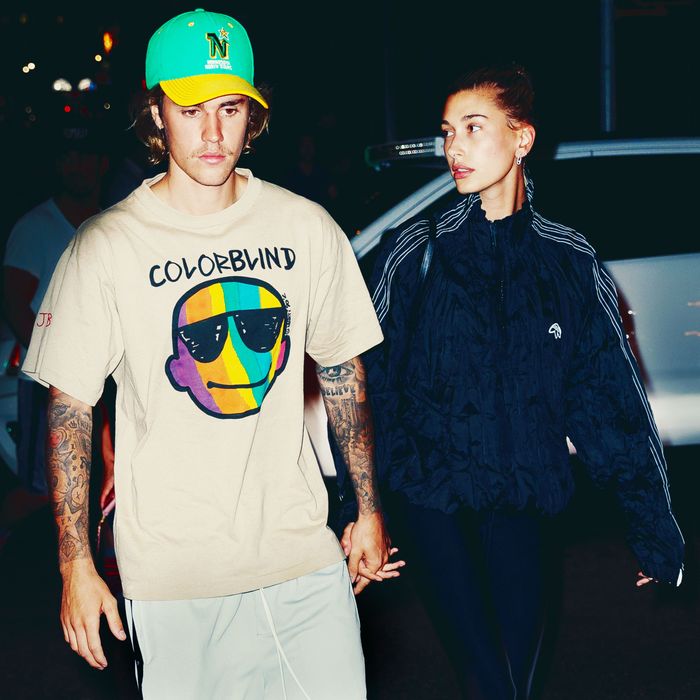 The betrothed.
Photo: Jackson Lee/GC Images/Getty
After one steamy, whirlwind month of Frenching in New York City's public parks, eating fast food, and praying, tiny peroxide prince Justin Bieber, 24, and Baldwin-DNA carrier Hailey Baldwin, 21, got engaged. Since their happy announcement in July, they have kept up their busy love schedule by playing with puppies, sprinting to couples massages, and sobbing on Citi Bikes. But now, a source tells People, "The wedding planning has slowed down a bit."
The source clarified this doesn't mean they're having doubts about committing themselves to each other for the rest of their long, blonde lives.
"It was getting quite intense and they realized they want to enjoy being engaged for a while," the Bieber source said. "It's not like they need to rush — they are both so young. They aren't slowing things down though because they are unsure if they want to marry; they definitely want to get married."
How much are they "slowing things down" exactly? According to TMZ, they're going to wait all the way until "next year" (2019).
"Justin's been in love with [Hailey] for a long time, so this didn't just come from out of the blue," another source told TMZ.
In the meantime, Bieber has been studying up on his role as a husband by reading Timothy Keller's The Meaning of Marriage: Facing the Complexities of Commitment With the Wisdom of God, a Christian marriage-advice book that says, among other things, that men are the head of a household, and women should submit to them.
Keller does not clarify whether you still have to submit to the man if he once had a pet monkey confiscated from him.