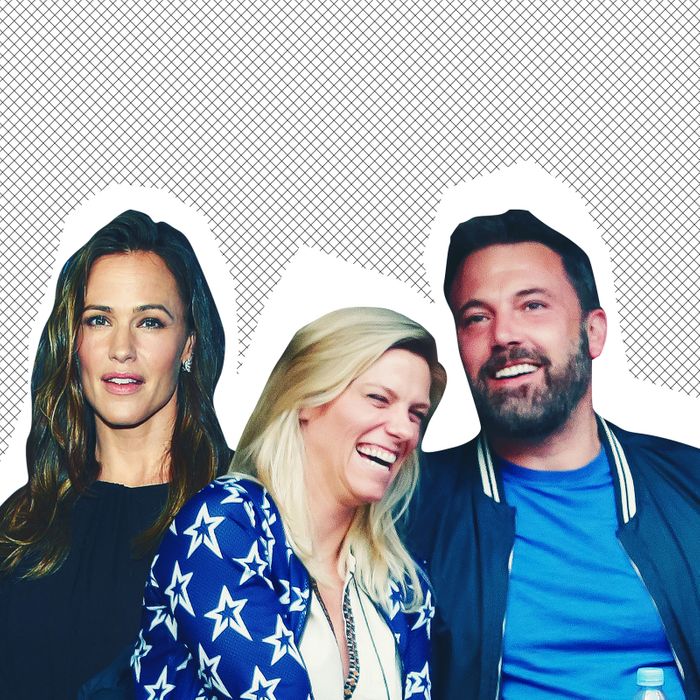 Photo-Illustration: Getty Images
Welcome to You Know What I Heard, the Cut's weekly celebrity gossip column about the peregrinations of the rich and famous.
It's been three years since Ben Affleck and Jennifer Garner announced their split and over a year since they officially filed for divorce, and … they are still not divorced. This week, tabloids reported that the estranged couple is in danger of having the whole case dismissed due to lack of forward movement. According to documents obtained by The Blast (a TMZ offshoot), the L.A. Superior Court is asking Affleck and Garner to hurry up and agree on a settlement or "the court may dismiss your case for delay in prosecution." What's going on?
By all accounts, Affleck and Garner have been truly separated this whole time, and they are not interested in getting back together. Though they continue to co-parent their three children, Affleck has been publicly dating SNL producer Lindsay Shookus for over a year. (Their relationship probably goes back much further than that.) Why wouldn't he want to make his divorce official? Well, according to Us Weekly, Garner might be the one dragging her feet (on account of Affleck's unpredictable behavior).
The tabloid reported last month that Garner still has "frustrations" with Affleck, and that she is waiting until he is in a more stable place to finalize the divorce. "The one thing she's not flexible on is sobriety," a source told the tabloid, referencing Affleck's history of alcohol abuse. "Jen is hesitant to sign off until she's certain that the kids will be in the best hands at all time. Finalizing the divorce has been a long process because of it."
Us Weekly also noted that Garner isn't comfortable having their children spend time with Shookus. "Jen doesn't want the kids around Lindsay or having her in their lives. She has many reasons," a source revealed, ominously.
Neither Garner nor Affleck has commented on their lack of action in the divorce case, but Affleck let the public know yesterday that he is happy and sober and everything is just fine. He was photographed leaving an outpatient rehab facility, smiling and waving with an iced coffee in hand.
In other celebrity relationship news, the recently affianced Justin Bieber and Hailey Baldwin aren't "rushing to the altar," according to TMZ. They are waiting to get married until … next year. In the meantime, Bieber has been preparing for the lifelong commitment by reading, or at least carrying around, a Christian marriage advice book called The Meaning of Marriage by the megachurch pastor Timothy Keller. Some highlights from the book: Marriage is between a man and a woman, the man is the head of the household and the woman should submit to his decisions, and couples should wait until marriage to have sex. I suspect that Bieber and Baldwin believe in that last rule, but what about the others?
Fellow Christians Chris Pratt and Katherine Schwarzenegger continued their daily pap strolls this week: They were photographed going to church (on a Friday night!), taking Pratt's 5-year-old son, Jack, to a movie and the Soho House, and going to dinner at Beauty & Essex in Hollywood. I maintain what I said last week: I think this flood of coverage of Pratt and Schwarzenegger's wholesome, kid-friendly dates is meant to telegraph how serious they are about each other, and that we'll hear about an engagement before the year is out.
One celebrity who does not plan to get engaged is Leo DiCaprio, 43. This week, E! News reported that his 21-year-old girlfriend, Cami Morrone, is "just a low key, cool girl" who isn't bugging him for anything serious. Great!
One small blessing this week:
Amanda Bynes is back and telling Us Weekly what's in her bag. (An iPod.)
And here's an interesting blind item from this week, care of Enty at Crazy Days and Nights:
"After last week's debacle at an acting class where this A+ list singer made everyone sign a NDA prior to her even showing up at class and then just not doing well at all, our singer is now taking solo acting lessons. When something calls for a partner she uses one of her bodyguards."
Hmm, which A+ list singer was recently cast in a movie musical?
Finally, I'll leave you with this photo of Katie Holmes gabbing on the phone in Manhattan yesterday. I hope you all have time to catch up with a friend this week!
Thanks so much for gossiping, and don't forget to send me a message on Twitter, or contact me on Signal, if you'd like to chat.