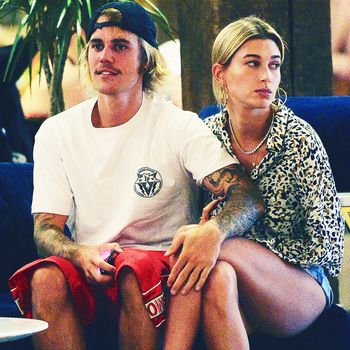 Photo: Jawad Elatab/SplashNews.com
Justin Bieber and Hailey Baldwin are quickly checking off the boxes on the "serious relationship" list. Last week, Justin cried in a park while Hailey comforted him, and then Hailey went with Justin to get his hair trimmed, and they've been spotted walking together all over Brooklyn. Rightly so, considering they are engaged to be married.
Now it looks like they've taken their love up north, to Justin's homeland of Canada. Fans snapped photos of the duo meeting Justin's siblings and on an outing to get ice cream. The photos also show the young couple getting into a lifted Dodge pickup truck , a stark change from their environmentally friendly city bikes. (It appears they were also wearing matching Vans!)
No word on what flavors of ice cream they ordered, but hopefully they complimented each other as well Hailey and Bieber allegedly do.