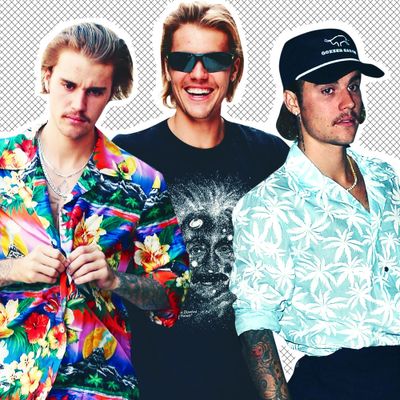 Justin Bieber had a big summer. He got engaged to his female doppelgänger, Hailey Baldwin; he released a few new songs, he got a little closer to God; and he fully embraced his inner mustachioed dirtbag. (It's true, Google it!)
Lucky for us in New York, Bieber blossomed right here in our backyard, which is why his summer style felt so … familiar. Perhaps we recognized ourselves in his baggy gym shorts, Hawaiian shirts, and Adidas slide sandals. He is, after all, the physical embodiment of vacation, or the "fearless" DGAF 20-something we all wish we could be, as his stylist, Karla Welch described it. But he also looked a lot like all the boys we've loved before. That is our truth.
Below, all the guys Justin Bieber reminded us of this summer.
• A young Matthew McConaughey.
• The guy who betrayed Drake in the music video for "Hold on, We're Going Home."
• The guy who paid his rent in cryptocurrency and is now crashing on your couch "until the bubble pops."
• The skateboarder you met in Soho who texts you on Tuesdays at 2 a.m.
• The Australian on Bumble looking for someone to go on "adventures" with.
• A guy who just sold his first gram of weed and now his Instagram handle is "@EscobarMon3y."
• A south Florida man who says he is a club promoter, but then you find out it's only for strip clubs after you and your friends agreed to meet him.
• Several different uncles rolled into one person.
• Someone who would start a fight at an Arby's.
• A "creative."
• Your high-school boyfriend who now works at an improv theater and says that Shia LaBeouf went there once.
• The guy on Tinder who's in your radius one minute and then 389 miles away the next.
• The guy who quit his job in finance to work at Vice.
• The teen manning the mini-golf course at the Jersey Shore this summer.
• The guy who doesn't know who Blake Lively is.
• A GQ editor.
• What you imagine when you hear the voices of Chapo Trap House.
• The guy who works at Roberta's and says that being full is a "construct."
• Honestly, a pretty cool guy.