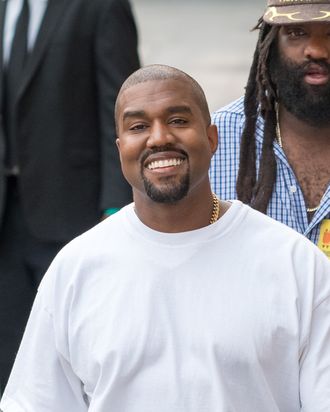 Kanye West.
Photo: RB/Bauer-Griffin/GC Images
When Kanye West wore slippers that seemed a tad too small to 2 Chainz's wedding, the internet clowned him endlessly. Paired with a rumpled suit, the look didn't exactly scream "wedding wear."
But it appears that Kanye has a sense of humor about the all the jokes made at his expense.
On Thursday night, he posted photos on Twitter of himself wearing very large slippers, captioning the pictures "are the slides big enough" and adding several flame emojis.
Kanye is a man who tends to operate in extremes, so it is unsurprising that his choice of footwear would go from "too small" to "dysfunctionally large."
But I think Kanye is on to something. Pending the ability to walk in shoes that large, imagine the comfort and security of knowing your feet are that far away from potential contaminants. There's at least seven inches in each direction, plus a nice thick layer beneath to cushion you away from the disgusting, harsh earth. Not to mention, with slippers this large, it would inhibit other people from standing too close to you.
Kanye's oversize slippers could act as a natural buffer between you and the rest of the world. That sounds ideal to me.