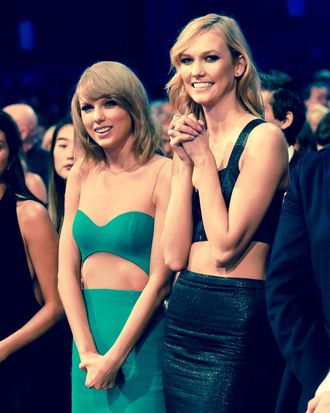 Karlie Kloss and Taylor Swift at the 2014 American Music Awards.
Photo: Kevin Mazur/AMA2014/WireImage
Karlie Kloss and Taylor Swift used to be a formidable duo in a girl gang filled with models, singers, and actresses. But for the last year, the two blondes haven't been seen together, and Karlie wasn't included in Taylor's video for "Look What You Made Me Do."
Their lack of public appearances had everyone wondering if Taylor and Karlie called it quits. Karlie countered these rumors in March, when she said the two were still friends and to not believe everything you read.
But many still wondered: Would Karlie invite Taylor to her wedding? Why was Karlie hanging out with Harry Styles and Katy Perry? What did that "Swish Swish" caption really mean?
It seems that the two are indeed still friends — or at the very least repaired their damaged relationship. On Saturday night, Karlie was spotted at Taylor's Nashville concert, singing and dancing near the stage.
Karlie posted videos to her Instagram story arriving at the concert and included clips from the crowd. This is the first time they've been seen together publicly for months, according to the Daily Mail.
There's no telling what caused their cool-off period or what resolved it, but maybe this means that Taylor will be a bridesmaid for Karlie?