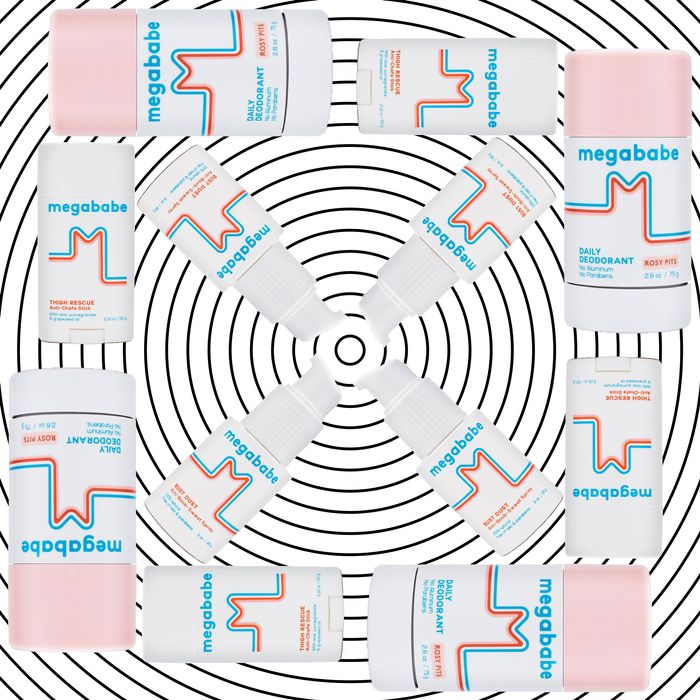 Here's another self-made beauty mogul on the rise: Katie Sturino is the founder of Megababe, the beauty company making products to address the "taboo" body discomfort issues many women face. She's also the woman behind the plus-size fashion blog The 12ish Style, and mom to not just one, but three Insta-famous dogs (Toast, Muppet, and Pants).
The brand's newest product, Rosy Pits, is a "natural" deodorant with an actual waiting list. The aluminum-, alcohol-, and baking soda–free stick smells heavenly, looks cute as hell, and casually managed to sell out in eight minutes after launching on JCrew.com (and again in under three minutes following a restock on Megababe's own site.)
This much hype around a pit-based product seems surprising on the surface. But considering the collective amount we've all sweat this summer ("We live in Singapore now," Sturino notes), and how much everyone sweats in general, Rosy Pits and its popularity fall right in line with Sturino's overall ethos on the internet. As a body-positive activist, she has a history of acknowledging the real problems women face just living their lives and finding a comfortable — and cute work-around. This skillset is the most evident on The 12ish Style, Sturino's fashion blog for "size 12ish–18ish girls living in a size 2 world," where she regularly re-creates and #supersizes celebrity looks for the underserved plus-size community.
"The thing I really try to push on my Instagram is self-acceptance at any size; self-acceptance at any place that you are. That's Megababe in a nutshell — it's the beauty product concept version of that sentiment," Sturino explains. Launched just last summer with its viral Thigh Rescue, an anti-chafe stick "for literally anyone who has thighs that touch," Megababe's small but growing line of purpose-driven products prove women don't have to suffer through or be in in denial of everyday bodily nuisances that the beauty world regularly glosses over (pun intended).
"What I don't understand is why someone who makes a cellulite cream or an anti-aging lotion would try so hard to fix something that's 'wrong' with you, rather than make you comfortable so you can just go about your day? Why isn't that considered the forefront of beauty?" It's a fair question and one Megababe was created in an attempt to answer. "Very frequently we're called a 'niche product;' a 'niche' brand solving 'niche' problems. It's like when people say plus-size clothing is 'niche,' when it's not, it's actually the majority."
With the help of Sturino's loyal following (she's very big in Brazil, by the way), the brand is well on its way to meeting the masses at just one year old. As of last month, Megababe is now available in ULTA (and at QVC) and boasts a line of four products that will make the rest of your summer bearable: The inaugural Thigh Rescue, Bust Dust ("basically dry shampoo for your under-boob area,") the recently launched Megafresh Wipes ("they're biodegradable so you don't have to feel bad about flushing"), and the currently elusive Rosy Pits. There's still a solid 51 days of summer left, so I'd recommend adding your name to any and all waitlists. The skin you're already in will thank you.
If you buy something through our links, New York may earn an affiliate commission.