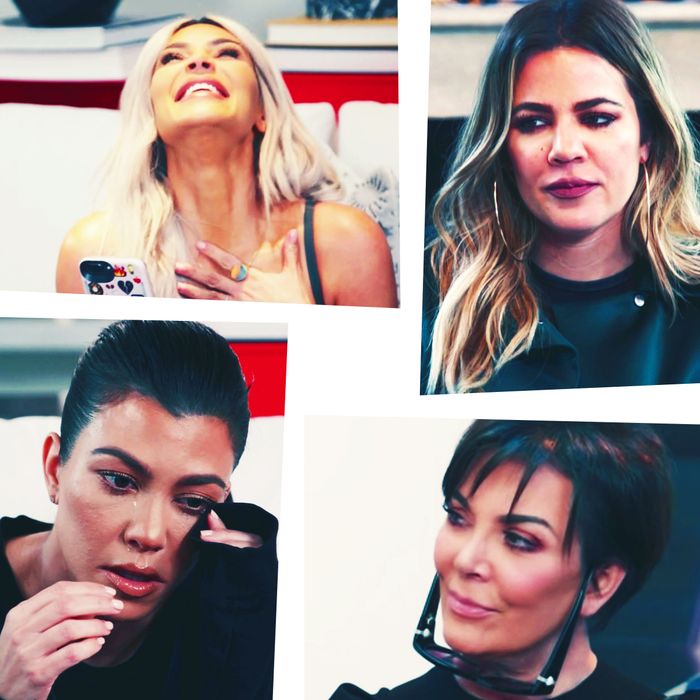 Photo-Illustration: Courtesy of E! Entertainment
Dolls! I mustn't keep you waiting any longer. This week's episode was an instant classic, proving that our darling family is committed to serving flawless(ish) reality for our lower-class nerves! The A plot was the continued sister fight; the B plot was Kris's art "snobbery"; and our C plot was Kendall Jenner. #LEGGO
Scene 1:
Last night's episode of Keeping Up started like a horror film. Instead of being greeted by the perplexing bawdy of Kylie or Kristen Jenner, we found ourselves greeted by the British robot known as James Corden, who is visiting Kim and North backstage before Kim films an interview for his show, Celebrities Sit on a Couch and Either Tell Stories They Want in the Papers the Next Day or Eat Nasty Food So They Can Be in the Papers the Next Day. James, while greeting Kim, looks straight into the cameras lens and asks if they're currently filming Keeping Up. He also tries to remember how to do his Trolls voice for North and then attempts to give just one little fuck about the family's current beef with Kourtney. This scene was filmed on November 15, 2017.
Scene 3:
Draped in a silk cape, Khloé is prepared to visit her mother Kristen Jenner. But before Kris arrives to chat with Khloé in her office, Khloé FaceTimes with Tristan "Hester Prynne" Thompson. Ogling over his cute face and promiscuous pecker, Khloé wishes Tristan well with his day and once Kris arrives, asks her mom to shake her body for the soon-to-be-born grandchild's father. Kris, of course, obliges before taking a seat.
After both women are seated, Khloé asks Kris about a tiny sculpture sitting behind her. Kris snottily tells Khloé that it's a Jeff "Koonts" Balloon Dog — and if Khloé had any art knowledge, she'd know that. Khloé is almost as offended by this comment as she was by her baby daddy's cheating, and accuses her mom of "art shaming" her. While Khloé is telling Kris how rude she is, Kris scrolls through her computer and realizes that she misspoke when she told Khloé her sculpture was a Jeff "Koonts" (yes, it's a Jeff Koons). This art-history lesson was filmed on October 7, 2017 — the same day as Khloé's Good American anniversary, and the same day Tristan cheated on her for the first time (that we know of).
Scene 4:
In Kris Jenner's glam room, Kim gets her makeup done. Sister Kendall pops in to chat, and after establishing that Kim's kids are excited to see Katy Perry later on and determining whether Kim can pull off loose curls, the two talk about housing. Kendall's being pushed out of her current home because it sold too quickly and will have no place to stay, as her new home is being extensively remodeled. Does Kim have any leads on where she should live in the interim? Kim suggests that Kendall live with the Wests for a while since they too will be moving in a few weeks; it just makes sense. Well, no — this means that now a family of four and Kanye West will be displaced. Still, Kendall agrees and thanks her elder sister. This scene was filmed on November 10, 2017.
Scene 5:
At her house, Khloé interviews local au pairs for her future baby, including the one in charge of Sofia Richie, Scott Disick. Scott asks Khloé if she ever thought she could be as in love as she is with Cheater, Cheater, P*ssy Eater Tristan Thompson. Khloé says that each love is different, but she is lucky. Scott also wonders if the rumors of Tristan wanting another baby immediately after this one are #TRUE. Khloé says they are, but that won't be happening because she wants to enjoy a good snapback before diving back into pregnancy. Scott really doesn't get that mentality, because he thinks women should just let their bodies go to shit for years at a time until their families are complete and then do their final snapback.
Kim joins these two crazy almost in-laws, and she wants to talk about Kourtney. Like James, Kim and Khloé both break the fourth wall, speaking directly to the cameras as they express their hatred for Kourtney's new therapist. The sisters think that Kourtney's foul mood can only be because her therapist (or her boyfriend) is leading her astray. But I guess they liked Younes at this point, because the therapist gets all of their hate. Keeks and KoKo TV-bully the therapist and tell the camera that they hate her. Scott also has bad feelings about her, because Kourtney has used some of her rhetoric on him, which he doesn't appreciate. Khloé, Kim, and Scott's war on the mental-health industry was filmed on November 14, 2017.
Scene 6:
In a series first, Scene 6 saw the show deviate from its regularly scheduled programming to air a Scamming How-to Guide hosted by "singer" Marina Acton. If you're unfamiliar, Marina bought Kim and Kanye's house for $17.8 million. Marina paid nearly triple what Kim and Kanye did when they bought the home in 2013, and for that, people have speculated, Kim promised to promote Marina as much as she could. This allegedly included, dinners, attending lame single releases, and an appearance on the show.
Though Marina says she didn't buy the house because it's Kim and Kanye's, her actions say otherwise. First, she looks like she wants to rip Kim's skin off with her teeth and wear it as a waist trainer. Second, she tells Kim that she specifically wore a body-hugging dress to impress her. This women is all types of creepy, and she's richer than raw cacao (her ex-husband co-founded WhatsApp). Watch out, Bel Air, Marina is about to be in Acton. This commercial was filmed on November 10, 2017 (this was an Inside Day for Kim — she had this same glam in a future scene #seebelow).
Scene 8:
Continuing the drama from last week, Kourtney, Kim, and Khloé hole up in Khloé's theatre room to chat about their issues. Kim's made an executive decision that the three of them should go to group therapy because they don't know how to communicate with one another. Kourtney is appalled because her sisters talk about her therapy sessions like she's getting help from a headless doll. Plus, she doesn't think she has a communication issue. She's trying to communicate — her sisters are the ones who have a problem.
Unsurprisingly, Khloé and Kim don't agree. They think Kourtney is listening to her therapist's hate for the sisters and behaving as though they're evil or out to get her. Kourtney doesn't see it like this, but instead of continuing to figure out solutions with her sisters, she gets right back on her phone. Mad that Kourtney isn't making an effort to listen to their possible solutions, Kim and Khloé both walk out. In the kitchen, Khloé and Kim wonder why Kourtney even bothers to continue working and filming with the family if she doesn't even want to be a part of their lives.
While discussing, they hear Kourtney sobbing in the other room. Kim goes to check on Kourtney, and Khloé goes to check on her leftovers in the fridge. As Khloé creates a full mood by eating takeout all by herself while standing, Kim listens to Kourtney in her thick running eye makeup complain some more about having different priorities than her sisters. Before leaving, Kourtney keeps telling Kim that she's just not "up for it" and doesn't get why everyone's so mad — she showed up on time and happy enough to be there. With that, she leaves Kim alone in Kourtney's kitchen looking crazier than the GOP in her Yeezy scraps. This scene was filmed on November 9, 2017.
Scene 11:
Emotionally destroyed by her mom's art-shaming, Khloé's asked for Scott's help into pranking Kris into thinking she's meeting an up-and-coming artist, Art Vandelay. The gag is: Art is just some random white dude who owns a blazer. To trick Kris, Scott and Khloé invite her to an art gallery and giggle to themselves as Art explains the art to her. Kris is successfully tricked and she's even excited that this man has gotten her full-grown child into loving the art of Art. This scene was filmed on November 8, 2017.
Scene 12:
Scott and Khloé decide to take their bit one step further with Kris. Just to prove how much she doesn't know shit about good art, they decide to create some themselves and pretend it's Art's. With Kim watching, they head to Khloé's garage to get to work. While Scott just wears a smock to make comments on the sidelines, Khloé is on her hands and knees tossing paint around like she's in preschool. All in all, Khloé creates three unique color-splatter pieces for her mom, despite Kim telling her color splatters are "out." Inspired, Kim calls Kris to ask if she knows any artists that she should reach out to for a Christmas gift for Kanye. Kris, of course, immediately recommends Art's art. This has Kim in hysterics. Unable to even form words, Kim puts her mom on mute so she can get all of her chuckles out. This scene was filmed on November 8, 2017.
Scene 13:
Blessed with more years under her belt than personality traits, Kendall celebrates her 22nd birthday. Even though Faye Resnick and Kyle Richards are there, the event is bittersweet. On the cusp of homelessness, Kendall has to have a tough conversation with Kim. After Kim promised her a room at the KKW Inn, Kendall learned that Kim and her family would be moving sooner than she thought. Which means now neither of them have a home. Kendall pulls Kim aside in the bathroom and asks her sister why she didn't tell her immediately. Kim's excuse is that she hates confrontation. But my excuse for Kim is that none of this mattered so there was no need to tell. This scene was filmed on November 2, 2017, eight days before Scene 4 where Kim offers her sister lodging. Meaning that this whole homeless story line was probably just to accommodate Marina's contract with Kimberly. EW!
Scene 15:
At Kris's house, Scott hand-delivers some Art work. He tells Kris that Art was so taken by her that he whipped up these originals. Corey, Kris's home health aid, is there and in on the joke. Kris marvels at the art and immediately looks to hang them in her main foyer. The best and worst part about this joke is that Scott and Khloé don't ever get around to telling Kris that this was all a prank — she's so invested that her assistant is calling around asking how to get the framed prints insured. This scene was filmed on November 29, 2017.
Scene 16:
After her emotional breakdown in Scene 8, Kourtney's agreed to Kim and Khloé's request for sister therapy. Kourtney, Kim, and Khloé convene at Khloé's and under the tutelage of family therapist Anita, they talk about their feelings. Today, Kourtney sings a slightly different tune and tells Anita that she believes she and her sisters could learn how to communicate better. Over the years she's perfected the mean fighting but she's over that now and doesn't want to spend her time around mean or negative people. Kim thinks what Kourtney is saying is complete crap because aside from one friend, Larsa Pippen, Kourtney is surrounded by negative people.
Kourtney would also like her sisters to understand that unlike them, work is not her top priority. She thinks they look down on her for taking more vacations and doing more spur-of-the-moment things than them, and she doesn't want her family to feel resentful or like they're picking up her slack when she's out of town. Kim notes that her full job is to be in town and film with the family, so her reasoning makes no sense. According to Kim, Kourtney has agreed to get paid for sharing her life, and if she's not willing to do that then she needs to find another job. If Kourtney can't commit to filming a season, why is she even showing her face in Calabasas?
Khloé, on the other hand, is more concerned that the special bond she's shared with Kourtney in the past is gone. She doesn't know why things have changed, but she'd like that old relationship with her sister back. Hearing this, Kourtney cries despondently. After this, Kim tells her sisters that for her, communication means nothing if no one respects the fact that she's really busy and will pop off at a moment's notice. So, for their protection, they should stay away from her and try not to argue. Kim also reminds Kourtney that she is still a rude little gremlin, but she understands where she's coming from. Unsatisfied, Khloé says that this very vague compromise between the sisters will really make their relationship fake AF. This scene was filmed on November 28, 2017.
We're really back in the swing of things, Dolls! Thanks for checking out this week's #KUWTKE recap of Keeping Up With Kendall Jenner's Housing. See you next week for more! #LONGLIVEMARINA