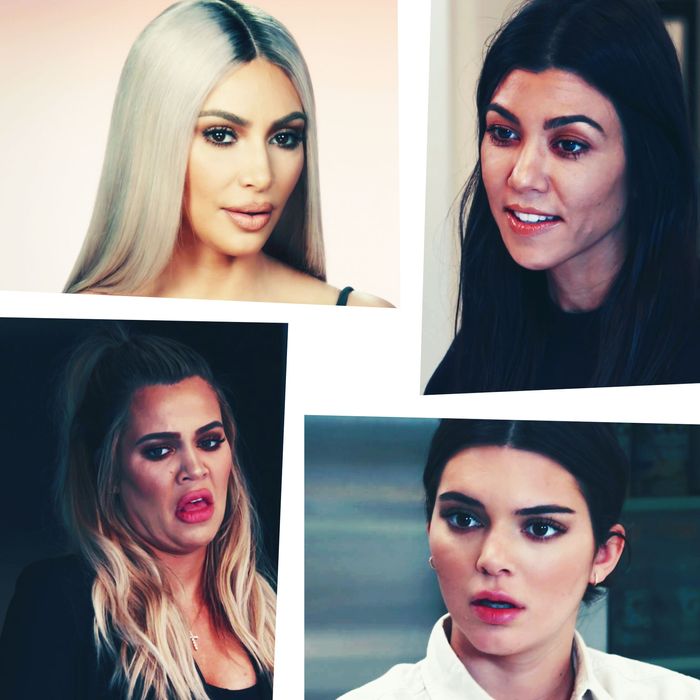 Photo: Courtesy of E! Entertainment
Last night's episode of Keeping Up With the Kardashians was our second Christmas episode of the 2017 to 2018 year. No, the Kardashians aren't rich enough to multiply a holiday on the world's calendar — but they are rich enough to make us watch them celebrate it twice. Ho, ho, ho!
For our A-plot we have Kourtney's strained relationship with the Kardashians and Christmas; our B-plot is Kris Jenner's illness; and our C-plot is Khloé's still-unannounced pregnancy. #LEGGO
Scene 2:
Kris Jenner hosts her eldest daughters, Kourtney, Kim, and Khloé, along with her mother, MJ. As soon as she's seated and greeted, MJ is immediately asked if Kourtney, who's walking in at that very moment, is "good" with the family. Khloé says she's not, and MJ proceeds as needed, by not making any contact with her grandchild and listening politely to Kim explain their holiday-card roll out. Confused, MJ asks Kim why she's doing a 25 Days of Christmas when it's only supposed to be 12. Kim doesn't give a straight answer, partially because as MJ inquires, Kris is undergoing a medical event in her seat.
While people speak around her, Kris contorts her face and ultimately places her head face down on the table before excusing herself. Claiming a sudden bout of nausea and stomach pain, Kris is confused and concerned — she hasn't eaten or done anything out of the ordinary. She's even only had one Belvedere and Soda! Helpful Kourtney jokes that her mother, and boss, was poisoned. This scene was filmed on December 1, 2017.
Scene 3:
Feeling better, Kris decides to try hosting her family one more time. Only today, there's not a catered meal and she's putting her daughters to work. But before Kris even arrives in her kitchen, KiKi's got Khloé in her feelings over some sushi. Kim and Kendall were chomping on Sugarfish sushi, a food Khloé can no longer stand to even be around due to a new pregnancy-related aversion. Not out of respect for Khloé's disgust, but out of respect for their own palettes, Kendall and Kim both stop eating the sushi. While Kendall thinks it just tastes bad, Kim is feeling like she can't eat it after Khloé says it smells like "diarrhea" and Kendall calls it "wet." Once the sushi is gone and Kris arrives, Kris brings up her annual Christmas party with the girls. When this is brought up, Kourtney strolls in, late, much to the disdain of Kimberly. All the girls are hype for the annual party, but Khloé's more excited for Christmas morning. She'll be in town, and hopes that Kourtney is still willing to host the family. Kourtney says she is, but only if her sisters even want to hang out with her.
Kris shifts the conversation back to the Christmas Eve party, and asks if it's still okay to invite Scott. She has him on the list because he's family and has been a guest at the party for a decade. Kourtney issues a hard NO on the status of Scott's invite, while everyone else thinks he should be there if Kris wants him there. Their reasoning is that despite his severed relationship with Kourtney, he's still family. Feeling bold, Kendall simply asks, "What about my dad?" A hush falls over the kitchen before Kim tries to rationalize Caitlyn not being invited by saying that Scott has never said or done anything bad toward the family. In disbelief, Kendall asks Kim if she's "actually joking," because both Scott and Caitlyn have done separate but equally "fucked up" things in the past. And, she tells Kris, that a decade of Scott around cannot possibly top her 25-year relationship with Caitlyn. Okay, Kendall! All of those years of going in on waitstaff finally came in handy! I see you, SugarFISH! Nothing is solved when it comes down to who should and shouldn't be invited, but Kourtney thinks that at the very least, she should get to decide on Scott since it's her "situation." Kendall's yearly opinion was filmed on November 30, 2017.
Scene 6:
Still feeling unwell, Kris Jenner takes to her massive bed. Khloé and Kim comfort their mother, asking about how she's currently feeling. Like before, Kris is battling an upset stomach and other ailments that prompted her to get a complete physical from her doctor. Currently, though, she's got no choice but to rest up and wait for the results. Kris is adamant that she's super healthy and only takes hormones, so this shouldn't be happening. Kim wonders if Kourtney was right, and she was poisoned, but more importantly, Kim wonders how and why old people get that "old person smell," and how can she stop it from happening? Like Scene 3, this scene was filmed on November 30, a day before Kris got woozy and left dinner in Scene 2.
Scene 7:
The sugar-free KarJenners Kourtney and Kendall head out to bore each other to death tea. (Also accompanying them in the empty restaurant is Jonathan Cheban, a.k.a. a useless bag of blankets.) Kourtney feels like Kendall is one of the only sisters she can speak to about her issues now, so she tells her little sis about all her Kardashian troubles — starting with the "least interesting to look at" comment from Kim and moving all the way to Kim and Khloé wanting Scott at the Christmas Eve party. Kourtney wonders why her sisters, especially Kim, would even dare step to her like that because if she wanted to, she'd clap back harder. Kendall nods, and wonders just why her sisters are acting so insane. She too is pissed that they're so hung up over Caitlyn coming to the Christmas party. But even though Kendall is also pissed at the rest of their family, she doesn't believe that Kourtney should spend time away from the family over Christmas, which is what Kourtney has threatened to do. This scene was filmed on December 5, 2017.
Scene 11:
While Kendall and Kourtney wander the haunts of the greater Los Angeles area, Kim and Khloé cozy up near a fire at Khloé's home. Like always, they talk about how weird Kourtney's been acting. Personally, Khloé's freaked out by a missed call and voicemail she received from Kourtney that day. Apparently, Kourtney accused her pregnant sister of being worried about how her life will turn out because she's refusing to let go of the past (Kourtney cites this as the reason Khloé's been acting mean toward her). The only word both Kim and Khloé can use to describe that call and Kourtney's recent behavior is "absurd." They say this so many times back and forth to one another within the span of ten seconds that it's obviously a buzz word used by one of their little friends to describe Kourt. Khloé also mentions that Kourtney included that she and Kendall "talked shit" about Khloé and Kim during their tea.
To get the truth, Khloé FaceTime's Kendall. Kendall picks up, and Khloé asks how much shit she and Kourtney were talking about them on a scale from one to ten. Refusing to answer, Kendall tells them that they weren't talking shit, just airing out their frustrations. Plus, Kourtney's currently Kendall's sister BFF, so of course they're gonna vent to one another. Kim, channeling her inner bully, calls Kendall "pathetic" for hanging out with Kourtney. Kendall is actually shocked that Kim would say that until Kim says she's "just joking."
Though Kourtney is her current best friend, Kendall betrays her trust and tells the other sisters that Kourtney is thinking about leaving the state for Christmas and not spending the holidays with family. This really upsets Kim and Khloé, and Kim wonders if this is a cry for help or if Kourtney is the new Rob doing whatever it takes to distance herself from the family. Khloé on the other hand is devastated that Kourtney would ever consider doing such a thing, even though she spent Christmas with Tristan in Cleveland when their relationship was just months old in 2016. They do agree that taking the kids away would be sad for them and their cousins. This scene was filmed on December 5, 2017.
Scene 12:
At home, Khloé rests in bed with her assortment of pillows. Kim, who seems to be stalking Khloé now that her sisterhood with Kourtney is severed, visits with a black Santa cap filled with candy canes. Kim takes a moment to express her current thought: She's worried that Khloé is spending too much time inside because of body insecurities. Khloé hasn't announced her pregnancy yet, and she explains she'd rather wait until she's comfortable to deal with outside opinions. Kim sort of understands, but thinks Khloé should at least come for a nighttime joy ride with her. They'll even toss candy canes on people's doorsteps, Kim says. I've never heard of this, but Kim compares it to tossing newspapers on front lawns.
Khloé reluctantly agrees, and once she and Kim are on the open Calabasas road, they do just that: They toss candy canes out the car window. Although: They're tossing them on the actual streets, toward passing cars, and not toward actual doorsteps. This seems less like fun, and more like littering. After they've dirtied up their town, the sisters stop for some pizza and soda. Khloé's having a great time because unlike Kourtney, Kim likes to eat.
Once they're fed, Kim suggests that she and Khloé toilet-paper Kris's home. Kim's obviously been waiting to get Khloé to do this, because she quietly but matter of factly says that it's high time Kris is paid back for doing that to her home six years ago while Kim was pregnant with North.
Khloé and Kim proceed to somehow find a stash of toilet paper, and go complete their mission. Kris is home decorating for Christmas with Jeff Leatham (her designer and friend); while her daughters are mucking up her backyard with toilet paper, she's none the wiser in her kitchen. It's not until they toss a roll of toilet paper at Kris's window that Kris becomes scared and upset. Kris heads outside to see who did this to her house, and while screaming for the culprits to show themselves, Kim and Khloé hide out in Kris's backyard bathroom. This was a poor decision because it apparently smells like someone took a fresh "shit."
Tired of hiding, Kim and Khloé surprise Kris in the front of her house, where their mother is with Corey Gamble (the young man she's been sexually looking after in recent years) and Jeff. Everyone's happy — and holding industrial-strength flashlights — once they see that it's just the girls. Inside, Kris shows Khloé and Kim her decorations.
Don't you just love harassing your sick mom during the holidays? An illness that was simply caused by too many hormones (according to her doctor's assessment of her test results), but still! This scene was filmed on December 7, 2017.
Scene 13:
Kourtney's still on the outs with her sisters, so instead of spending the holiday season with them she's decided to make new memories with other people. Along with Kendall, Kourtney went ice skating with Larsa Pippen and her family, Travis Barker and his kids, and Big Boy, a radio host*.
While skating around the ice, Kendall, Kourtney's only family member, callously takes down a young boy. She does briefly check on him after he nearly cracked his head open on the ice, but the Olympian's daughter then continues tearing up the ice and tearing down people. During a break from colliding with every possible child on the rink, Kendall takes Kourtney aside and asks her to rethink skipping town on Christmas. Like Kourtney, Kendall isn't super fond of their family — which is exactly why she doesn't want to be left alone with them. Plus: Since the majority of them are pregnant or expecting a child, Kendall believes the stress and tension will pass once their lives settle down a bit. Kourtney agrees. This scene was filmed on December 8, 2017.
Scene 15:
In a season first, we get more than passing images of Tammy Hembrow's BFF, Kylie Jenner. Joining Kim in a confessional, Kylie and Kim call up Khloé. They tell her that Kylie is "never" going to announce her pregnancy, so Khloé should go ahead and tell the world about her bundle of joy. Khloé's shocked, but excited to finally be open with her pregnancy. If I were Khloé, I'd be excited and concerned, given the fact that this scene was filmed on May 24, 2018, about a month and a half after she gave birth to True and almost four months after Stormi was born. Kylie, next time you lie about still being pregnant on set, take off your Stormi necklace (the "S" tucked under her T-shirt), doll. Oh, also, the wig looks nearly fabulous, Kim!
Scene 17:
After deciding to announce her pregnancy over a month after delivering her child, Khloé stops by Ellen. Promoting her freedom, Khloé cradles her baby bump to take pics and soak up the billion-dollar spotlight Kylie so kindly allowed to shine on her. Khloé's coming out party and Ellen appearance was filmed on January 4, 2018.
Scene 19:
After all of the Christmas party guest-list drama, it was decided that both Scott and Caitlyn could be invited. While Caitlyn didn't attend, Scott did. And it even seems as though he was on his best behavior, judging by the footage shown, which was captured almost exclusively by Snapchat. The party was festive and star studded, as it typically is, and ended with a nice shot of our new Keeping Up Cast, Kris, Kourtney, Kim, North, Penelope, Khloé, and Kendall. Welcoming to Generation K, dolls. This scene was filmed on Christmas Eve, DUH.
Unlike Kourtney, I'll always ride for the Kardashians, and I hope you will too, dolls. Thanks for joining me this week! I'll see you soon for another recap #KUWTKE of Keeping Up With Kourtney's Emancipation. #WhatAboutMyDad
*An earlier version mistakenly identified an ice-skater as Big Boi of Outkast. It has been updated to show that the ice-skater was Big Boy, a radio host.