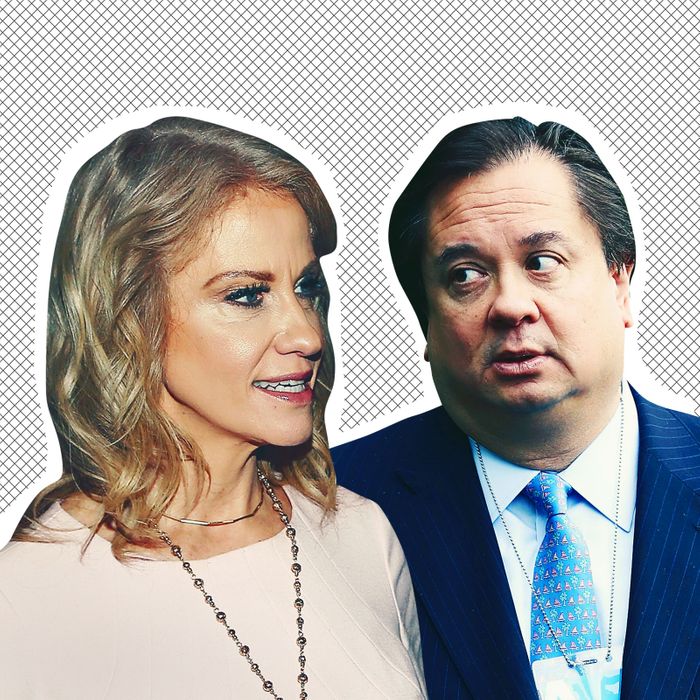 Kellyanne and George Conway.
Photo-Illustration: Paul Morigi, Chip Somodevilla /Getty Images
President Trump is not just harming the country, he's harming his employees' marriages. In a new Washington Post profile of George and Kellyanne Conway, their wealth and political prominence barely register; the fact that they're absolutely miserable is all that's noticeable.
In a series of exchanges ranging from mild annoyance to pure disdain, it becomes clear that the love Kellyanne and George have for one another is being overshadowed by their very different opinions on Donald Trump. George hates Kellyanne's job, and Kellyanne hates George's tweets — they can't even agree on simple things, like Trump's Taj Mahal casino. ("It was wildly popular," said Kellyanne. "It went bankrupt twice," said George.)
Below are the very best, most dreadful exchanges from the clearly unhappy Conways.
Kellyanne thinks George is jealous of Donald Trump.
"I feel there's a part of him that thinks I chose Donald Trump over him," Kellyanne said to Ben Terris, the author of the profile. "Which is ridiculous. One is my work and one is my marriage," Kellyanne said. She may not be entirely off base.
"If there's an issue, it's because she's in that job, for that man," George said, later in the profile.
George is ready for Kellyanne to lose her job.
George has already made it plenty clear that he believes Trump shouldn't be president. When it comes to discussions of impeachment, there's dual thrill in it for George: an ousting of a terrible man, and his wife no longer working for the terrible man.
"If my wife were the counselor to the CEO of Pepsi and I had a problem with her boss," George explained, "I would simply drink my Coke and keep my mouth shut. If the president were simply mediocre or even bad, I'd have nothing to say. This is much different."
Kellyanne hates George's tweets.
When Kellyanne is speaking on the record, she finds George's tweets criticizing the president "disrespectful." But, in the most incredible exchange in the profile, Kellyanne tried to give the reporter quotes about her husband's tweets … as an anonymous source. Here's the full conversation between Kellyanne and Ben Terris:
Me: You told me you found [George's tweets] disrespectful.




Kellyanne: It is disrespectful, it's a violation of basic decency, certainly, if not marital vows . . . as "a person familiar with their relationship."




Me: No, we're on the record here. You can't say after the fact "as someone familiar."




Kellyanne: I told you everything about his tweets was off the record.




Me: No, that's not true. That never happened.




Kellyanne: Well, people do see it this way. People do see it that way, I don't say I do, but people see it that way.




Me: But I'm saying we never discussed everything about his tweets being off the record. There are certain things you said that I put off the record.




Kellyanne: Fine. I've never actually said what I think about it and I won't say what I think about it, which tells you what I think about it.
George's tweets are the only thing making George happy.
When George was asked about the tweets, he deflected criticism. "Her problem is with her boss, not me," he explained. He also says he's "holding back a little" for Kellyanne.
"It's an outlet, that keeps it a small part of my life. It's a quick easy way to express myself, that keeps me from making it a bigger part of my life," he said about the tweets.
The article closes with Kellyanne singing loudly, to the point where George gives up trying to speak to the reporter.