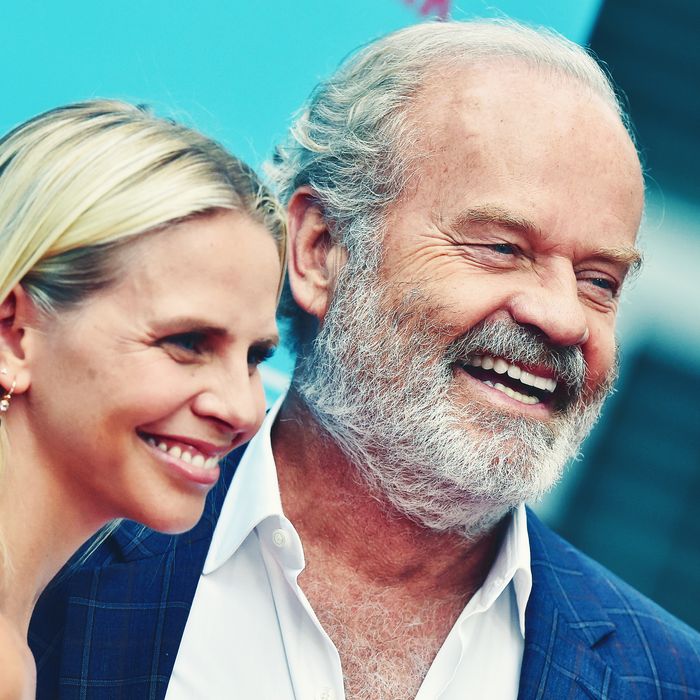 Kayte and Kelsey.
Photo: Axelle/Bauer-Griffin/FilmMagic
I don't know how else to say this, so I'll jump right in: Frasier-star Kelsey Grammer got his wife's name (Kayte) tattooed next to his dong so he doesn't cheat on her. Rrrromance!
Grammer married his fourth and current wife (Kayte) after cheating on his third and former wife, Real Housewives of Beverly Hills star Camille Grammer, to whom he was married for 13 years, and with whom he shares two children. As Celebitchy points out, the split was not amicable, and back in June, Camille tweeted that Grammer "acts like I never existed."
But Grammer's new wife (Kayte) isn't going to let that happen to her. Grammer told Conan O'Brien that she convinced him to get her name (Kayte) tattooed on his 63-year-old crotch so that, in his words, "If ever, I maybe thought a peccadillo outside the marriage was a good idea, that whoever might be … you know … would read that this particular piece of equipment was already signed."
That's sweet. Anyway, have happy Friday thinking about Frasier's wang-adjacent tattoo (Kayte).