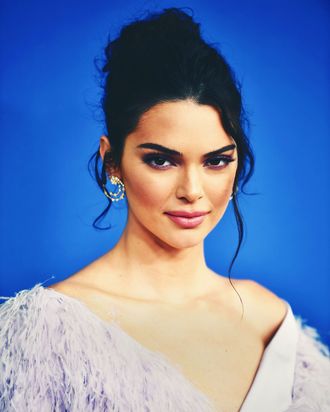 Kendall Jenner.
Photo: Dimitrios Kambouris/Getty Images
After Kendall Jenner revealed that she's hyperselective when it comes to picking which runway shows to do each season, the modeling community not-so-politely asked the 22-year-old supermodel to please check her privilege, as not everyone in the industry is a millionaire who can afford to pass up job opportunities.
Jenner uttered the offending quote — which she claims has been taken out of context — to Love magazine, which reposted her words on their Instagram this past weekend.
"I was never one of those girls who would do, like, 30 shows a season or whatever the fuck those girls do," she said. "More power to 'em."
The quote did not sit well with her fellow models.
"'Whatever the fuck those girls do' is do their very best to make their way up AND try to make some money so that they can provide for themselves and their families," wrote 27-year-old Russian model Daria Strokous over a screenshot of Love magazine's Instagram that she posted to her own story. "Oh, and it's 70 shows a season by the way and we are all fucking proud of every single one of the girls that did it."
Ginta Lapina, a 29-year-old Latvian model, took specific aim at Jenner's cushy upbringing in an Instagram screenshot similar to Strokous's.
"We all are hard working and worked hard to be where we are," she wrote. "Nothing was given to us."
Twenty-four-year-old model Teddy Quinlivan was so disapproving of Jenner's message that she typed up a lengthy response, which she posted as a note to her Instagram Story.
"Models don't just come from Calabasas … they come from Somalia, the Siberian tundra, a rural village in China, a trailer park in Tennessee," she wrote. "Making disparaging comments about your peers doesn't lead to growth or unity which our regulation-less industry desperately needs."
Following the backlash, one of Jenner's representatives told "Page Six" that the model "realized the number of shows some models walk a season is closer to 80," and that "she admires their hard work and dedication." She did not, however, appear to apologize for the comment.
Updated on 08/21/18 at 9:17 p.m.:
Kendall Jenner posted to her Twitter account that she was "misrepresented" in her Love magazine interview. "It was intended to be entirely complimentary but unfortunately, my words were twisted," she wrote. "The respect that I have for my peers is immeasurable!"
She continued to compliment her fellow models for their hard work and sacrifices, before encouraging them to "slay always."