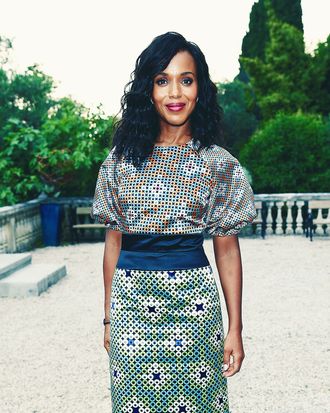 Kerry Washington.
Photo: David M. Benett/Dave Benett/Getty Images for Spo
Since Scandal wrapped this spring, Kerry Washington has kept busy. She's been directing SMILF in Boston, basically serving as Eva Longoria's doula, prepping for Broadway, making me crave arrabiata, and continuing to fill any Scandal-sized holes with new makeup launches as a face of Neutrogena. Shortly after the show's season finale, she introduced her first collection with the brand, an everyday cheek and eye palette designed to make life easier. Today, Washington launched her second collection, Force of Nature, an eye and lip duo with a tad bit more drama. The Cut caught up with Washington last week to discuss her sophomore launch, curly hair maintenance, and taking fish oil.
Congrats on the second collection! How do these new palettes differ from your Essential palettes in terms of the overall vibe? What was on the mood board for Force of Nature?
I think the Essential palette was such a great place to start because it really fit both Neutrogena and me, in creating a kit that was super easy-access, utilitarian, and in line with everyday beauty. It has natural and neutral colors in soft tones and mostly mattes. Essentials is my everyday kit that I literally keep in my purse every day.
Then I was like, Okay, I also have this slightly more dramatic side that I play with [laughs]. When I'm on the red carpet, or out on a date, or have an important meeting, I like to have a little more fun. I wanted to create a palette with more drama, but still lived in the idea of natural beauty. We went for colors with deeper, warmer rich earth tones and more shimmer and drama.
Shade names are one of my favorite parts of opening up a new palette. How did you come up with names like Instinct, Rapture, Reason, and Dare, and what did you want them to convey?
For me, the shade names are about empowerment. "Empower" is one of the colors, but it's about embracing the forces of nature that we are. I'm really proud to work with a makeup company that doesn't traffic in the idea that you have to buy this product to create a mask to go out into the world. That you have to be somebody other than who you are, or look some way other than how you look.
We're very committed to the idea that you should look as beautiful when you take your makeup off as when you put it on. You should look and feel beautiful.
When I go to the mirror in the morning, it's not with a sense of "Oh I better put my mask on in order to face the world." It's more like, Wow, I'm taking such good care of myself, I'm going to use this makeup to bring my best self forward. So these shade names speak to what we're capable of when we really embrace our natural beauty and power.
You've been behind the camera lately, but your Instagram is glowy and fresh-faced as ever. What's your current skin-care and makeup routine, and has it shifted at all?
I just like to let my skin breathe when I'm not working. When I'm filming, I'm usually wearing a lot more makeup, and you're literally cooking under the lights for 16 hour days. I love to play with makeup. I'm obsessed with every one of these lip colors.
I'm super SPF focused. I think a lot of that dewy look comes from our Hydro Boost line. Hyaluronic acid is our friend. I love it and I use and I'm so grateful for it. We have a new mascara that I really love that has hyaluronic in it too. When I'm not working my ritual is mostly about hydration, protection, and health.
I still to this day think about your Met Gala hair. Do you have any sage curly hair/natural hair-care advice?
When I'm taking care of my overall health, it's reflected in my hair. If I'm not drinking enough water and not taking my fish oil and getting enough sleep, that shows up in my skin and in my hair. So I try to do those things. I love, love clarifying shampoos, but I think sometimes they can be a bit over stripping, you know? I get nervous about them, but we have an anti-residue shampoo that I love to use. I only use it like once a month, because with my hair, I only use regular shampoo once a week, if that. The anti-residue is a great way to just press the reset button because I use so much product to moisturize my curly hair.
I noticed you've been wearing braids lately. Is there a hairstyle you've been wanting to cross off your list to try? Any plans to switch it up again for fall?
I'm going to be on Broadway this fall in New York [in American Son], so I've actually been thinking a lot about what that character's hair is. I have some ideas about it, but I don't want to commit until I'm fully, fully entrenched in rehearsal. But whatever her hair will be kind of similar to my hair because I have eight shows a week, so [laughs].
Photo: Courtesy of the Retailer
Photo: Courtesy of the Retailer
If you buy something through our links, New York may earn an affiliate commission.