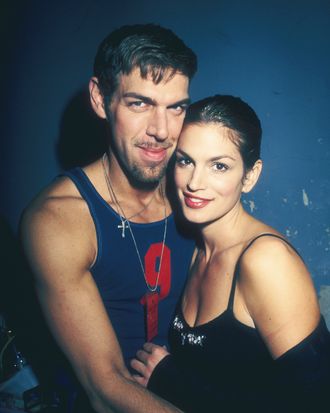 Kevyn Aucoin.
Photo: Ron Galella, Ltd./WireImage
What if you had the power to make people beautiful? That was makeup artist Kevyn Aucoin's gift. Much like Michael Phelps was built to swim, Aucoin, the subject of Tiffany Bartok's new documentary Larger Than Life, was made to beautify. Before his passing in 2002 at the age of 40, Aucoin was not just the most famous makeup artist in the world, but the first makeup artist to ever become mainstream famous. Gwyneth Paltrow hired him to do her Oscars makeup in 1999 — the year she won in Pepto Bismol–colored taffeta. He created Whitney Houston's look for The Bodyguard and Janet Jackson's smoky eyes in "Scream." He walked the red carpet with Cher and wrote a monthly column in Allure. The story of his passing became a New York Magazine cover story.
Aucoin had the "hugest hands," Kate Moss says in the movie ("humongous," Linda Evangelista confirms). There's a shot of the six-foot-five Aucoin palm-to-palm with Cher, and his hands look like Bigfoot paws. Great makeup artists rely on their hands, not just mink brushes. Aucoin used his for molding foundation, melting pigment onto faces, and blending everything until you couldn't tell the difference between skin and makeup. They were also perfect for cradling supermodels' heads as he had his way with them, like the time he plucked off everyone's eyebrows backstage at an Isaac Mizrahi show and started the thin-brow trend of the '90s. (He and Mizrahi were inspired by Carole Lombard.) Cindy Crawford's agent threatened to sue. She later forgave him once she found that her bookings actually increased. "I'm really sorry. This is everything," Mizrahi remember her writing to him.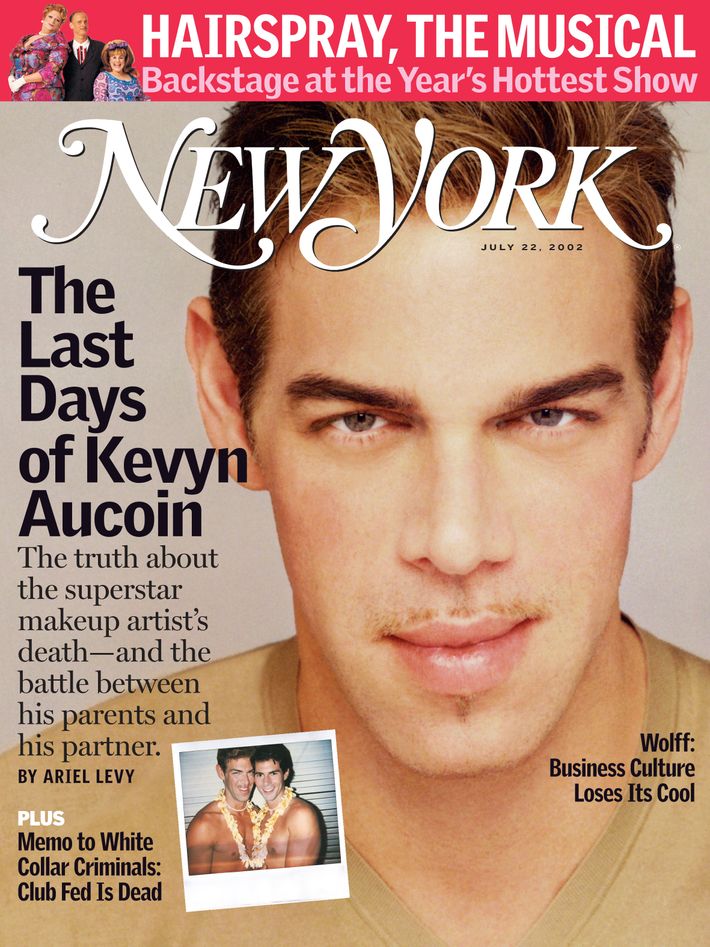 Aucoin also still impacts the way that we do makeup today. "He was the first one to put [contouring] out there for the world to see," says Mario Dedivanovic, Kim Kardashian West's makeup artist, in the film. Would there even be a Kim Kardashian if Aucoin hadn't taught the world to contour? It was the "Photoshop of our day," Evangelista said. His books, Making Faces and Face Forward, transformed Winona Ryder into Liz Taylor and his mom into Marlene Dietrich. But it was also one of the first to peel back the curtain and show and teach, with diagrams and step-by-steps, makeup's transformative quality. The books had instructible elements, but they also showed that no one, not even Naomi Campbell, rolled out of bed looking camera-ready. Aucoin never pretended that his clients "woke up like this."
Aucoin was often described as making "beautiful women look even more beautiful." But he was especially drawn to shining his light on those not considered traditionally beautiful at the time. He worked with Liza Minnelli, who once told the New York Times, "It's not that I think I'm ugly; I'm just not pretty." Unlike today's Instagram makeup craze, which has been accused of making everyone look like a member of the Kardashian-Jenner clan, Aucoin never flattened or stamped out individuality or uniqueness. Sure, he would contour a nose, but he wouldn't reconstruct it or make it unrecognizable. In bringing out what he thought was most beautiful about Minnelli, he "was challenging the assumption about what a big magazine considered beautiful," Allure founder Linda Wells explains in the movie (he ended up being Minnelli's confidant, and even did her wedding makeup). Even though he worked on countless symmetrically blessed supermodels, he considered working with Barbra Streisand his "pinch me" moment. Growing up in '80s Louisiana and bullied throughout childhood, he explained, "These women have given me so much when I was growing up. They had so much strength to go on. They give you struggle. They give you hope."
Aucoin knew that the world values and demands beauty from its women. He saw the world's most famous women bare and he understood the pressures on them. It's no different today, with headlines wishing the 49-year-old Jennifer Lopez happy birthday alongside a photo of her abs. "He saw everything — those who were bulimic, doing Botox, and the tape and string under the pulleys to make you younger. If you needed him, you could badger him and say, 'I need you to just come to where I am. It's really important and I need you.' And he didn't want to let us down," said Tori Amos. As an outcast in his youth, Aucoin knew that being seen as beautiful was a form of acceptance and admiration, and that he had the power to give that to people. For him, the ability to make someone feel and look beautiful feels like bestowing love in another form. And as Amber Valletta once said, "Kevyn was all love."
Kevyn Aucoin: Larger Than Life is available now on iTunes. It's produced by Jayce Bartok, Troy Surratt, and Bronwyn Cosgrave. Cher, Christy Turlington Burns, Isabella Rossellini, and Campbell are featured.