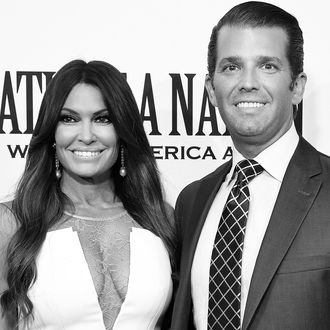 Kimberly Guilfoyle and Donald Trump Jr.
Photo: Shannon Finney/Getty Images
The love between Kimberly Guilfoyle — the former Fox News host accused of showing her colleagues dick pics and emotionally abusing them — and her Russia-colluding adulterer boyfriend, Donald Trump Jr., is pure and true. It's only fitting that the two do what all stupidly in love partners do, which is party in the Hamptons and call each other obscure pet names.
According to "Page Six," the couple was spotted in Southampton this weekend, where Guilfoyle addressed Don Jr. as "Junior Mint." We have to give it to Guilfoyle for the creativity; not only does the candy brand incorporate Don Jr.'s name, it also could be a reference to his bank account, as "Page Six" speculates.
Meanwhile, Don Jr., presumably the less creative one, allegedly calls Guilfoyle "Pooh Bear." Ah, love in the time of Trump.