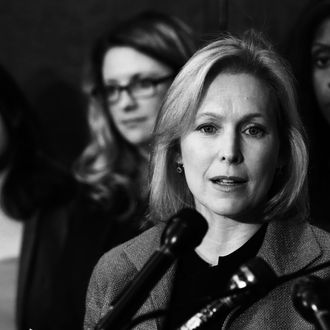 Kristen Gillibrand.
Photo: Chip Somodevilla/Getty Images
In June, George Soros told The Washington Post that New York Senator Kristen Gillibrand's call for Al Franken's resignation meant that he would not support a Gillibrand presidential bid in the 2020 elections.
Soros considered Gillibrand's statements about Franken, who had been accused by a reporter of sexual misconduct, to be a political strategy "in order to improve her chances." Franken was ultimately accused by eight women of sexual harassment and misconduct, including allegations of groping. He resigned from office in December of 2017.
On Wednesday, Gillibrand responded to Soros's comments in a statement to HuffPost. "If standing up for women who have been wronged makes George Soros mad, that's on him," Gillibrand said. "But I won't hesitate to always do what I think is right. For nearly a year, we have seen countless acts of courage as women and men have spoken hard truths about sexual assault and sexual harassment and demanded accountability."
According to HuffPost, Soros was not the only donor to the Democratic party who was unhappy with Gillibrand's choice to call for Franken's resignation. One anonymous donor went so far as to call Senator Gillibrand a "ruthless opportunist."
Gillibrand's statement demonstrated clear resolution in her decision to call for Franken's resignation. "It is clear that we must put our morals and the valuing of women ahead of party loyalty," her statement continued. "When someone does something wrong, you have to speak up and be counted, whether it's President Trump, or a Democratic colleague."