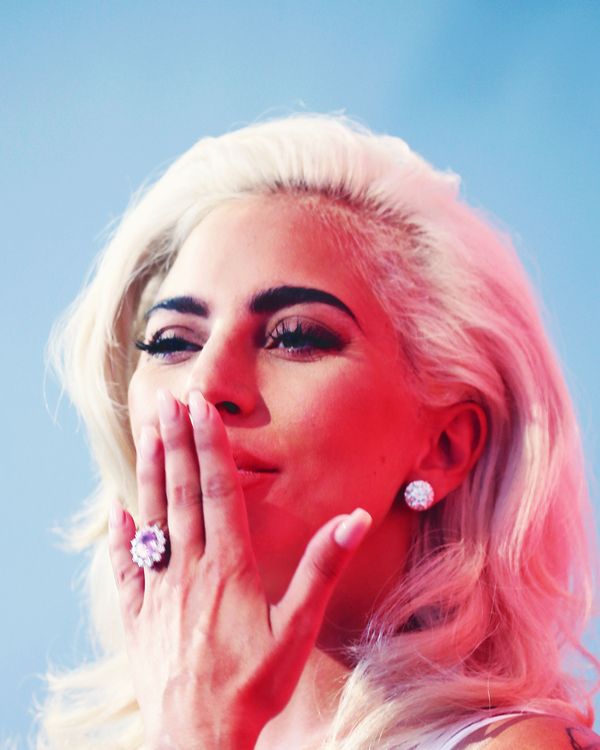 Lady Gaga at the Venice Film Festival.
Photo: Franco Origlia/Getty Images
First came the Chicken Soup for the Soul franchise. Then, the phrase "Live, Laugh, Love," embroidered on throw pillows and emblazoned on posters across the world. And eventually, the book and movie Eat, Pray, Love. But now, we have been given a new beacon of hope and inspiration — one that will push us to be our best selves and live life with passion, optimism, and great makeup: Lady Gaga at the Venice Film Festival.
Gaga — an "Italian girl from New York" named Stefani Germanotta — is at film festival this week for the premiere of her upcoming film A Star Is Born, which will either be the best movie any of us have ever seen or will just be one of the best movies any of us have ever seen (there is no other option, judging by the trailer). In the film, she plays an unknown musician in very little makeup, who falls in love with a known musician, played by Bradley Cooper. Drama and music ensues. So it's only fitting that she's in top inspirational diva form as she promotes the film in Venice.
Here she is on her first day in Venice, decked out in a curve-hugging black dress that says, "I don't care what you think of me, but also I know you think I am amazing."
But how did she arrive at her Venetian destination? Oh, just by sitting elegantly on the edge of a boat …
… smelling a freaking rose, which reminds us all to take a moment and smell the metaphorical roses (whatever they may be in our own lives).
Later, she heads to a press conference holding hands with Bradley Cooper.
And shows off her compassion by graciously taking a moment to chat with fans …
… and also blow kisses at the paparazzi.
Then, at the press conference, she spoke out about how scary it is to be vulnerable, which we can relate to and inspires us all to be brave, but also repeated her story about that time Bradley Cooper used a makeup wipe on her, which we cannot relate to and does not inspire us to do anything.
And please see her inspiring title card on the table — which tells us all that we don't need to hide our true selves just because we are at a prestigious movie festival that is screening our potentially Oscar-worthy film:
Hopefully we will all Live, Laugh, Gaga moving forward in our lives.