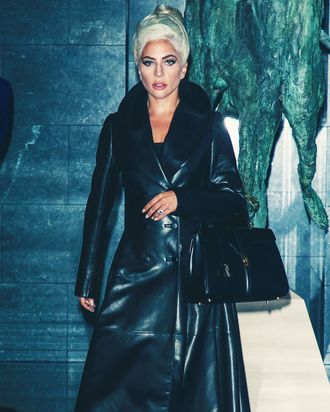 Lady Gaga.
Photo: MARC PIASECKI/GETTY IMAGES/GC Images
As the fashion world continues to mourn the loss of Phoebe Philo at Céline, Lady Gaga is looking ahead. The singer was seen in Paris with a new black, top-handle bag. But not just any top-handle bag — a previously unseen Céline bag by the new designer, Hedi Slimane. She wore it to the Lourve to see the Mona Lisa, and then again as a pop of black against a bright orange dress.
Gaga's stylist, Tom Eerebout, confirmed to Business of Fashion that she had been loaned the bag from the new Céline collection which will show next month during Paris Fashion Week.
"Lady Gaga always supported Hedi at Saint Laurent," Eerebout said. "They're really close friends and they have been since he photographed her for 'The Fame Monster' album cover." Gaga was also the first celebrity to wear a full-look by Slimane when he took over at Saint Laurent in 2012. She wore the ensemble on a visit to Julian Assange (yes, the one of Wikileaks) at the Ecuadorian embassy in London.
Slimane's collection is one of the most highly anticipated of fashion month. If he continues with his rock-n-roll party girl aesthetic, it will be a stark transition from the understated elegance we've seen at Céline under Philo's reign. But hey, it's a cute bag.