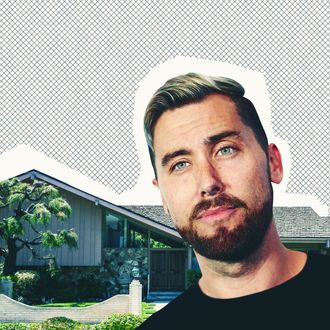 Lance Bass and not his house.
Photo: Getty Images
In the '70s, the Brady Bunch was a show about a blended family of blonde women and dark-haired men that people watched and enjoyed even though it was clear that everyone in the family was constantly making out off-screen. Recently, the iconic Studio City home used for the exterior shots of all this mother-on-son, brother-on-sister, sister-on-brother action went up for sale, and for a few wondrous, celebrity Mad-Libs days, it seemed the house would be purchased by former 'N Sync star and occasional Vanderpump Rules guest Lance Bass. But then, disaster struck: On Sunday, Bass announced that he had lost the incest palace — uh, I mean, house — to an unknown, nefarious corporate entity that TMZ revealed today to be HGTV.
"Marcia Marcia Marcia! I'm feeling heartbroken today," Bass wrote in an Instagram post. He explained that the agent representing the estate had told him he had placed the winning bid on the property (just under $3 million for a $1.9 million asking price), before reneging on the deal the very next day because a corporate buyer wanted the house "at any cost."
"How is this fair or legal??" Bass wondered in the same post. "How can I compete with a billion dollar corporate entity? I truly believe I was used to drive up the price of the home knowing very well that this corporation intended on making their offer and it's not a good feeling. I feel used but most importantly I'm hurt and saddened by this highly questionable outcome."
He concluded with the hashtags "#CrushedDream," "#ShadyAF," "#DouglasElliman," and "#ShadyBrady."
On Tuesday, HGTV confirmed it was the "billion dollar corporate entity" in question. In a statement, Discovery CEO David Zaslav said, "One of our projects for HGTV will speak to those Brady Bunch fans on the call. You may have heard that the house from the iconic series was recently on the market in California. I'm excited to share that HGTV is the winning bidder and will restore the Brady Bunch home to its 1970s glory as only HGTV can. More detail to come over the next few months but we'll bring all the resources to bear to tell safe, fun stories about this beloved piece of American TV history."
Though presumably still heartbroken, this seemed to be an acceptable outcome for Bass, who tweeted on Tuesday:
Our condolences to Bass. And congratulations to both HGTV and Barry Williams, the actor who played the eldest Brady son, Greg, and who wasn't involved in this property dispute at all, but reportedly got to smooch both his onscreen mom, Florence Henderson (Carol Brady) and his onscreen sister, Maureen McCormick (Marcia Brady). Weird but nice, I guess.