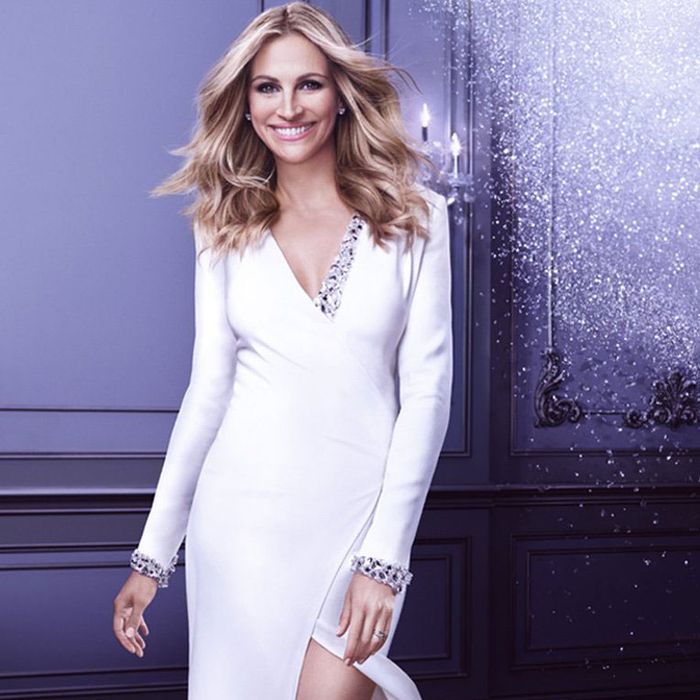 Photo: Courtesy of Lancome
Lancôme's most recent campaign promoting their signature fragrance, La Vie est Belle, shows Julia Roberts splashing her way through a fountain and smiling at everyone to remind us that life is beautiful. Indeed it is, thank you!
The perfume itself has notes of "the elegance of iris, the strength of Patchouli, and the sweetness of the gourmand blend." Gourmand means "greedy" in French, but as far as perfumes go, a "gourmand blend" references a perfume that is made up of mostly sweet, edible top notes, like chocolate, honey, or vanilla, that are grounded by a base note of musk or patchouli. They are considered the olfactory version of a dessert, but they are not actually meant to be eaten, unless they are Jessica Simpson's discontinued edible beauty line, Dessert Treats (Remember that? What were the 2000s?).
In this ad, Julia Roberts spritzes on her gourmand blend and goes to an unusual party. She takes off her shoes and walks through a rainfall fountain! Her carefree, shoe-less spontaneity enchants a man to put away his cell phone and actually look at his wife's face. Next, she convinces a young woman to take off her headphones. Then, she inspires a member of the party's band to cast off his beanie and have a rockin' good time! She's basically reenacting a smaller version of the "Paris Holds the Key to Your Heart" number from animated classic film Anastasia.
The film, while a little silly, hits all those classic points you would want from a perfume ad: There's a megawatt celebrity, a foreign setting, a lot of visual stimuli in a very short time span, and a overall dreamlike quality achieved by making everything purple. It's charming, it's a little weird, it's Julia Roberts, it's perfume.
Photo: Courtesy of the Retailer
If you buy something through our links, New York may earn an affiliate commission.