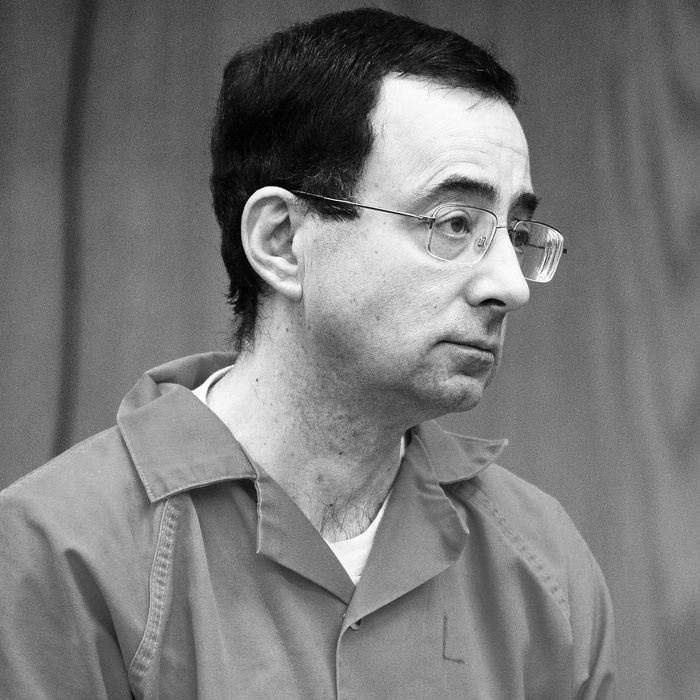 Larry Nassar.
Photo: RENA LAVERTY/AFP/Getty Images
Nearly seven months after ex–USA Gymnastics doctor Larry Nassar was sentenced to up to 175 years in prison for sexually abusing more than 140 women and girls, two more Olympic medal–winning gymnasts have come forward with similar allegations against Nassar. As of today, the disgraced doctor has been accused of sexually abusing every member of the "Fierce Five" group that won the 2012 Olympic gold medal.
Madison Kocian of the 2016 Olympic team and Kyla Ross, who was in the "Fierce Five," told the Associated Press that they didn't immediately recognize that what Nassar did to them was morally reprehensible; it was only after listening to the powerful testimonies of fellow gymnasts abused by Nassar at his sentencing hearing that they realized they, too, had been sexually assaulted.
"Everyone copes in their own way," Ross told the AP. "It doesn't matter how old you are and what happens to you. I've come to the point in my life this is something I want to share my story and move on."
Ross now joins the rest of the 2012 Olympic team in coming forward and saying they'd been sexually abused by Nassar: Gabby Douglas, McKayla Maroney, Aly Raisman, and Jordyn Wieber. (Kocian is the fourth gymnast from the 2016 Olympic team to allege that Nassar abused her, joining Douglas, Raisman, and Simone Biles.)
Just as dozens of gymnasts did earlier this year, both Ross and Kocian filed civil lawsuits against Nassar's former employer, Michigan State University, and intend to sue United States Olympic Committee and USA Gymnastics. During Nassar's sentencing, countless gymnasts who testified accused USA Gymnastics of being complicit in Nassar's decades of sexual abuse — an allegation that was confirmed when the Indianapolis Star obtained damning internal emails in May.