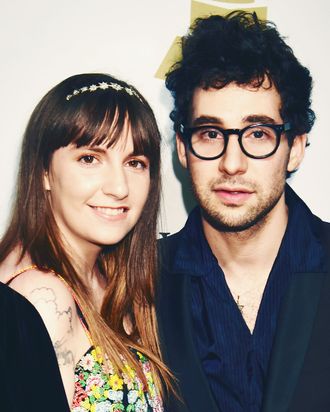 Dunham, Antonoff.
Photo: Jeff Kravitz/FilmMagic
How you feel about the fact that Lena Dunham tweeted out a list of baby names she made in 2015 with erstwhile boyfriend Jack Antonoff — former guitarist of the band fun., as you know — is up to you. It happened this afternoon, in August of 2018, coming up on a year after the couple broke up, in December of 2017. (It is perhaps not irrelevant that Lena Dunham's social-media manager is on vacation.) I'm sure you have a feeling about this which you may whisper to yourself before letting it go, releasing that feeling into the universe while remembering that our time on earth is limited. This is either a good or bad thing, depending, but it is above all a true thing, and one that we should remember in times like these. I invite you to take a moment to feel your feeling about the tweet and its timing now before I direct your attention to the reason we are here.
Have you done it? Okay — thank you. The reason we are here is it seems as though Lena Dunham and Jack Antonoff stumbled upon a fantastic baby name. Incredible. It is sandwiched, of course, between Oz and Na:
Why, that is simply lovely. Kelly. Kelly Kelly Kelly. The name of a genius; a beauty inside and out. Of course it is listed with Carrot, Shogo, and Rah, which also all contain letters; you have to give them that. I commend the former couple on their good taste in this matter (the matter of Kelly) and am releasing the rest of what we've spoken about today from my brain into the atmosphere, where it will dissipate. I recommend you do the same, thank you.
P.S.: Joy is also on the list.