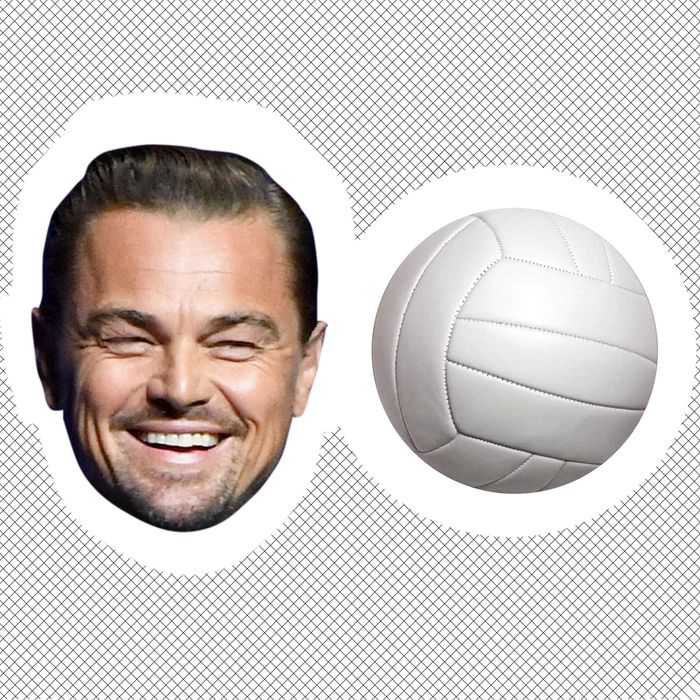 Photo: Getty Images; Amazon
Leonardo DiCaprio is a man of many talents. He is an actor, vaper, environmental activist, Pussy Posse founder, and one of the world's preeminent scholars of 20-something blondes. But like any modern Renaissance Bro, DiCaprio is always pushing himself to master new skills. Most recently: beach volleyball.
DiCaprio seems to have spent much of this summer on the beach outside his Malibu home, rallying, diving for balls, spiking, digging, dinking, and other terms I just learned on the Darien, Connecticut, YMCA website. Dressed in a white shirt, grimy baseball cap, and sunglasses, DiCaprio plays with a rotating cast of bronzed and scantily clad men and women. Are these tryouts for a new Pussy Posse? Is he part of some secret league? Is he just trying something new? Who knows, his motivations are his own.
In any case, here are some of the characters who have been spotted volleying with DiCaprio this summer. Admittedly, this list isn't complete because some of the people he played with, while extremely attractive, were not famous, and we don't know their names. We will continue to update this list as necessary.
Sean Penn
Though it's unclear whether Penn actually participated in any matches, the two actors co-hosted a Fourth of July party together at DiCaprio's house in Malibu where, according to TMZ, DiCaprio "got patriotic" by "serving his country" as well as "serving his guests during a volleyball game."
Penn "appears to have stayed out of the sand" but DiCaprio probably tossed him a ball or two while they discussed their shared interests like newsboy caps and explaining things.
Ansel Elgort
A couple of weeks later, again in Malibu, Elgort and DiCaprio were described as "Volleyball BFFs" by E! and according to People, "They were both seen making some serious plays as they leaped into the air and attempted to spike the ball to the other side."
DiCaprio was once again wearing a white T-shirt, and Elgort was wearing puka shells.
Scott Eastwood
While Elgort and DiCaprio played on opposite sides of the net, this weekend, DiCaprio teamed up with Scott Eastwood, son of Clint. TMZ distressingly described them as "bro-in' down between serves" and indeed, there is a picture of them high-fiving.
Jamie Foxx
In early August, DiCaprio took a break from his grueling volleyball training schedule to go snorkeling and disgusted yachting around the Mediterranean with his 21-year-old girlfriend Camila Morrone. But on Saturday, August 25, he was back at it, teaming up with Katie Holmes's longtime boyfriend Jamie Foxx. DiCaprio once again wore a T-shirt, shades, and grimy baseball cap, but this time the shirt was gray instead of white because it's important to be able to play in all sorts of T-shirt conditions I guess. Foxx also wore a T-shirt and sunglasses, but no hat. According to TMZ, the pair played on the same side of the net and were "getting super competitive." They squared off against another recent inductee into the DiCaprio Volleyball League…
Gerard Butler
TMZ says DiCaprio and Foxx played against Gerard Butler "and friend," and though there are no pictures of the Olympus Has Fallen star actually hitting a ball, there are pictures of him wearing what appears to be a shark tooth necklace. He was also reportedly "true to form" and "chatting up Ruby Rose," who was also a guest at DiCaprio's Malibu home, but apparently didn't participate in volleyball practice.
Tobey Maguire
Just when it was starting to look like DiCaprio's volleyball club was off-limits to members of his first brotherhood, the Posse of Puss, his friend Tobey Maguire made an appearance at his latest V-ball get-together. Maguire does not appear to have hit any serves though — according to TMZ, he and his new girlfriend Tatiana Dieteman "played a fierce game of cornhole." Maybe he had to prove himself on the cornhole boards before DiCaprio would let him get in front of the net?
Who do you think Leo will play with next?