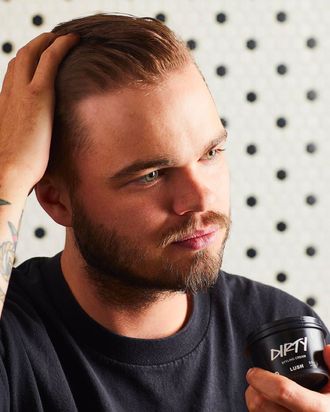 Not Leonardo DiCaprio.
Photo: lushcosmetics/Instagram
Let's say you had a rough day, so you decide to pop into your local Lush store and out of the corner of your eye, you glimpse *gasp* IS THAT LEONARDO DICAPRIO?
I regret to inform you that the talented, dreamy, six-time Academy Award nominee, and summer volleyball enthusiast is not studying up for a new role at Lush. Sorry! That is Willie, his doppelgänger. Willie is an in-house photographer at Lush, who was quickly noticed for his strikingly familiar good looks on a Lush Instagram post using the Dirty Styling Cream (one of Willie's favorites). Instagram users have definitely noticed the similarities: @imbatmannow commented, "serving young Leo realness" and @emilymcguren said, "I straight up thought this was Leo DiCaprio at first glance." It's not the first time that someone has called attention to the resemblance. "I've had quite a few people at Lush HQ call me Leo, but I was pretty surprised to see the response from our Lushies," said Willie-Leo according to Lush PR. And Willie's story does indeed go on: He is the photographer responsible for all the staff photos you can see hanging in Lush shop windows as well as on the website. Impressive, Willie!
While your initial excitement about the possibility of Leo working at Lush may have DEPARTED, be grateful that he is out here giving those of us in steerage a little bit of hope and a lot of awesome photos. I think a world filled with a bunch of Leonardo Dicapri-esques (yes, that is the totally official name for a Leo look-alike, thank you) is a better world indeed. And in the meantime, Willie, catch me if you can.