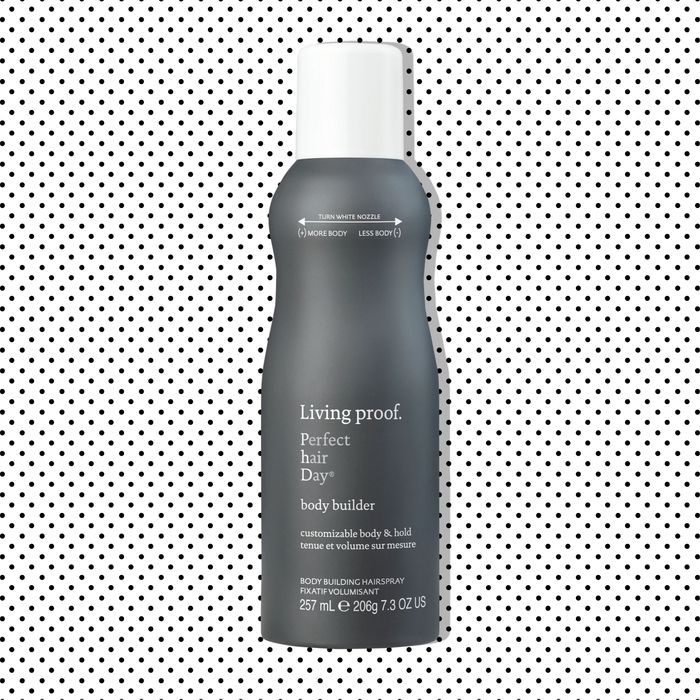 Photo: Courtesy of the Retailer
The newest hair product from Living Proof is a "PhD Body Builder". The first image that comes to mind after hearing "PhD Body Builder" is probably a Tinder bio accompanied by a blurry gym selfie, but relax: The "PhD" here stands for "Perfect Hair Day", and the "Body Builder" refers to the amount of volume and hold you want to use on your hair (don't skip hair day). Let's swipe right and see what this is about.
There's a difference between a multi-purpose product and one that actually offers two distinct uses. Sure, you can use multi-purpose Fenty Killawatt highlighter on your eyes, cheeks, and lips, but it's all the same product. It's not the same as a product who can function two ways through formula (like the double-tipped Flesh Beauty concealer) or applicator (like the convertible wand Pacifica mascara). The Body Builder hair spray falls into that latter category.
This hair spray is pretty revolutionary, because you can create a hairspray with your desired amount of body depending on how you swivel the top. You have control of the amount of product dispensed, and the actual spray size. Do you want medium body? Twist the top to "M" for 25 percent more product and 46 percent bigger particles. Twist it to "L" for, well, less than that, scientifically speaking and less body. You can use the "L" side for daily wear, and dial it up to "M" for date night and see if particle size really does matter.
If you buy something through our links, New York may earn an affiliate commission.