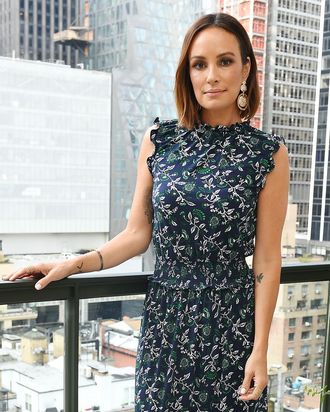 Photo: Ben Gabbe/Getty Images for Lord & Taylor
A former anchor for E! News, Catt Sadler is very comfortable being the face of a major company. Having spent many years dressing herself for on-camera E! appearances, she's also become something of an expert on self-presentation. It is for these reasons, and more, that Lord & Taylor has asked her to serve as its first-ever Resident Style Expert. In her role, Sadler will curate her favorite clothes and top picks of the season in an online lordandtaylor.com shop, which launches next week.
On Thursday, Lord & Taylor hosted a breakfast at the Whitby Hotel in New York to celebrate Sadler's new role as well as National Women's Equality Day, which is Sunday. "Style is the energy and enthusiasm that you put out into the world, and also what you're wearing," Sadler told the Cut. She wore an on-trend "prairie dress" by Michael Kors, but it was an unusually crisp morning, and fall was in the air.
As for her fall fashion manifesto, Sadler said she plans to wear colorful coats and jackets, despite the fact that she's based in sunny California. She also hopes to shake-up an otherwise relaxed Los Angeles dress code. "We're seeing a lot of statement pieces; the more obnoxious, really, the better," she said, referencing trends like big sneakers and mixed plaids, which she's seen on the runways. But what will her Los Angeles neighbors think?! "I'm definitely going to have to take some more trips to New York so that I can pull that off," she added.