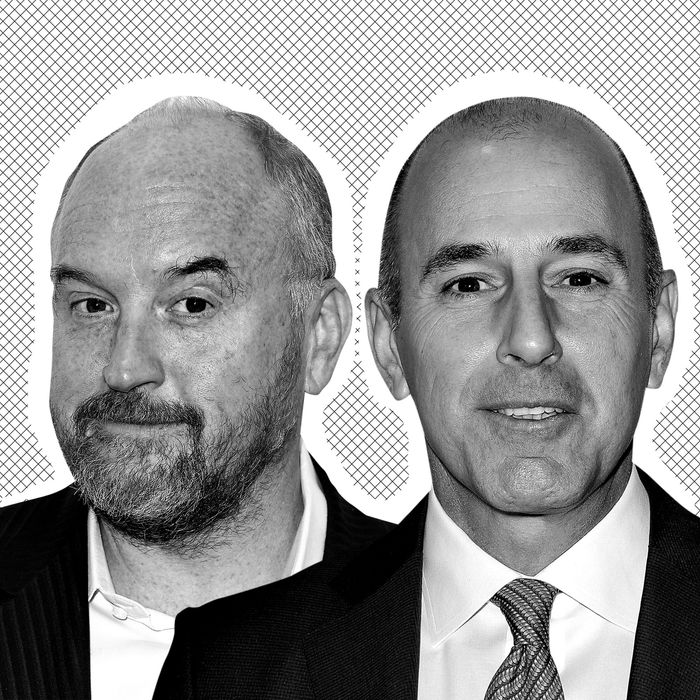 Louis C.K. and Matt Lauer.
Photo: Getty Images
Last night came news that former Today show anchor Matt Lauer is (again!) plotting his return to television, or at least promised as much to a crowd of worshipful female fans who saw him at a steakhouse and told him how much they'd missed him since he got fired for having inappropriate sexual relationships with less powerful NBC employees. Last night, too, comedian Louis C.K. performed stand-up for the first time since being accused by fellow comedians of masturbating in front of them against their will, women who said they'd been blackballed from their profession after sharing the incident with others. C.K.'s return was reportedly met with a standing ovation before he even opened his mouth.
Today, there's quite a bit of blowback at these guys on social media. Which makes it crucial to point out that irritation — or flat-out rage — at the men attempting professional comebacks after having been credibly accused of sexual harassment and abuse isn't necessarily about a punitive urge to see them forever in purgatory. Go ahead, guys: learn, grow, love, consider your own trajectory and the damage you've done to others along the way; work at something, find a path toward dignity and fulfillment, be best, the whole nine. I don't know, nor am I inclined to guess at, what the proper penalty or restitution would be for the harms you've inflicted (though for those without means, charges of assault and indecent exposure often involve arrest and imprisonment, which I mention simply because it's worth considering from the standpoint of the gross economic and racial inequality in this country but hey, I'm no fan of incarceration so it's not like I'm angling for more of it).
What I do know is that these men can return to their industries, with the expectation that their reentry might be near the top. Many feel they should be able to come back to stages and to their former hot-spot restaurants and be greeted with sympathy and whooping affection and relief. And this reality reaffirms — and in fact recapitulates — the false notion that their worth, their value, their indispensability was built independently of the systems that permitted them to abuse their power in the first place.
What does it mean that C.K.'s ovation began before he even started his set? It means he got applauded just for being Louis C.K. Which, he might recall before he gets off on that too much, is exactly the reasoning that kept women from gaining any traction when they reported their experiences with Harvey Weinstein and Charlie Rose. "That's just Harvey being Harvey" and "That's just Charlie being Charlie" were verbatim lines used to excuse the fact that those guys assaulted and harassed scores of women — they were just being themselves. Literally just being the powerful man is enough to get you a whole lot in this fucked-up world.
And that low bar should give lie to the fantasy that whatever these guys offered — talent or skill or pure mediocrity — was something that only they could offer, a rank illusion in industries in which women were systematically denigrated, harassed, and wound up banished or fleeing out of frustration, anger, fear, or a combination of all three. The upshot is, men who sexually used less powerful women consciously or unconsciously managed to clear the field of potential competitors, of whole populations of colleagues who might well have been more gifted, funnier, smarter, than they were.
So those women — the comedians who were professionally sidelined by Louis C.K.'s handlers when they dared to reveal what he'd done; the employees who never rose at NBC because Lauer's sexual imposition knocked them off their career paths; the subordinates to whom Charlie Rose described his sexual fantasies, whom he groped at his Bellport mansion — they don't get to return to the professional perches from which they were exiled, not just for months but for decades … forever. They don't have mansions to retreat to; and their punishment wasn't not sitting in a VIP seat at the Hamptons Classic, which was the actual level of personal abasement for Lauer over the weekend described by "Page Six." For the women, there aren't adoring crowds or lamentations about how precious their talents are because the beloved men made sure they'd never had the chance to gain authority in the first place.
Yes, the world can live without the comedic stylings of Louis C.K. Forever? Oh, Christ, I don't know, but maybe for more than eight months, right? Not many of these guys are such unique talents that we cannot live without them; we will not be bereft and aimless without their entertainments and leadership. (And whatever the hell people think they need Matt Lauer for, I truly have no clue.) I can't help but think that a guy who really wanted to change and regain the public's trust might do it by reentering public life via another avenue: helping other people, or educating other men about the errors he made or harm he did. He could, for example, work in the criminal-justice system, perhaps with those men who, with less affluence, have gone to jail for the very same crimes — indecent exposure, assault — these famous guys have been accused of committing. Or, you know, they could get jobs at the Gap, or work in the service or care industries, or in any of the other professions to which those who've had dicks shoved in their faces — as opposed to those who've shoved the dicks — have turned when they've found themselves unemployed.
That the men who are out there eating up ill-earned adulation and reveling in the notion that they're possessed of talents superior to those who aren't applauded tells me that, even if they've learned to reform their own behaviors — and by the way, the jury's still out on that one — they haven't learned a damn thing about how they collected those masses of fans in the first place.