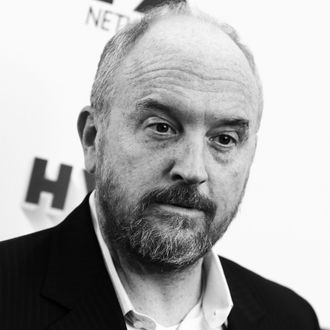 F. Scott Fitzgerald famously said there are no second acts in American lives, and he wasn't even factoring in everybody finding out about how you showed your penis to your peers and co-workers. Louis C.K. seems ready to put that theory to the test, however, having returned for a surprise set at New York's Comedy Cellar Sunday night, by all accounts his first live performance since admitting to sexual misconduct allegations made by five women amid the rise of #MeToo.
According to the New York Times, C.K. didn't address the elephant in the room during his performance, but instead riffed on topics like "racism, waitresses' tips, parades." Said Cellar owner Noam Dworman, the comedian seemed "very relaxed." The Times reports that the sold-out audience "greeted him warmly, with an ovation even before he began," though one audience member did contact the venue Monday to say "he wished he had known in advance" C.K. was performing, "so he could've decided whether to have been there or not."
After the comedian admitted to allegations of inappropriate sexual behavior lodged against him last fall, specifically of making female co-workers and comedians watch him masturbate, C.K. lost his deal with FX, as well as his agent and management. His movie I Love You, Daddy was also shelved.
"At the time, I said to myself that what I did was okay because I never showed a woman my dick without asking first, which is also true," C.K. said in a statement acknowledging his actions in November. "But what I learned later in life, too late, is that when you have power over another person, asking them to look at your dick isn't a question, it's a predicament for them. The power I had over these women is that they admired me. And I wielded that power irresponsibly." Concluded C.K., "I have spent my long and lucky career talking and saying anything I want. I will now step back and take a long time to listen."