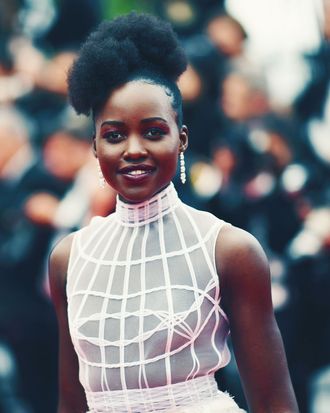 Photo: Loic Venance/AFP/Getty Images
Lupita Nyong'o is many things: Oscar winner, children's book author, TV-series producer, overall beautiful person inside and out, and apparently the unofficial global educator of Black Hair. In a recent interview for Porter's fall fashion issue, (Nyong'o is their cover star), she opened up about the struggle of being an A-list actor with kinky hair. Thanks to racial prejudice, she's no stranger to discussing the topic, but this time she checked back in with a friendly reminder that yes, the microaggressions surrounding black hair are sadly, still very much a thing.
"My hair is something that, historically, has been shunned," she says. "I mean, how often do you hear, 'You can't get a job with hair like that'?" I ask if that's still true. "Oh, yes," she says. "Natural, African, kinky hair — it's often been painted as uncivilized or wild."
Nyong'o is happy to take up the cause "to show other dark, kinky-haired people, and particularly our children, that they are beautiful just the way they are," but I'm starting to feel exhausted on her behalf. Following Solange's genius "Don't Touch My Hair," it seems a lot of the public education has fallen on Nyongo's shoulders — she's consistently doing everyone's homework in attempt to shed some light on the ongoing issue. Just last year, she called out Grazia U.K. for completely editing her kinky hair out of her own cover.
And never forget the very succinct Works Cited she posted on Instagram after Vogue credited her African-inspired hairstyle at the 2016 Met Gala to Audrey Hepburn:
Thankfully, Nyong'o is happy with the way her most recent shoot went, which is progress. She posted her Porter cover on Instagram with a short and sweet: "Sometimes opening up can be so easy!" Read the full interview here.