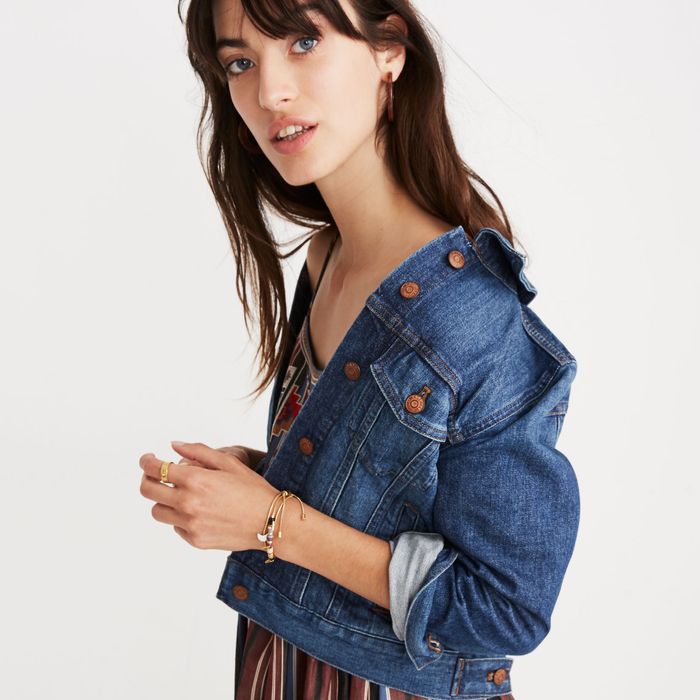 Photo: Courtesy of Madewell
Madewell is the latest brand to take steps toward more sustainable denim. The millennial whisperer announced today their new eco jean collection. Like many sustainably made denim collections theirs is made with organic, non-GMO, chemical-free cotton. Unlike some other collections, the jeans are dyed sustainably using shrimp shells. Well, fibers that come from shrimp shells.
The sustainable denim process for Madewell starts at the Candiani mill outside Milan in Italy. They use a product called Kitotex®️, which uses exoskeletons of crustaceans as a way to reduce water and chemicals in the dyeing process. Kitotex is made with byproducts of the food industry (i.e. thrown-away shrimp and lobster shells). The exoskeletons contain chitosan, a fiber that helps bind dyes to fabric, eliminating some chemicals that are traditionally used. Chitosan is extracted and turned into Kitotex by science-y magic so that, when applied to the cotton, it can reduce water consumption by 12 times and energy consumption by 90 percent. This also means fewer chemicals have to be used in the dyeing and finishing process for the cotton.
Then, this crustacean-powered denim goes to the Vietnamese factory, Saitex. The same factory that has turned G-Star RAW and Everlane into sustainable denim producers. They're LEED-certified, recycle most of their water, and turn their manufacturing waste into bricks for affordable housing. Overall? Madewell's eco-denim collection requires 65 percent less chemicals and 75 percent less water than conventional fabric. Sadly, not all of their denim is this sustainable, but it's a start. So far, they're starting with six styles: 9" High-Rise Skinny Jeans in Regina Wash: Eco Edition, 10" High-Rise Skinny Jeans in Elinor Wash: Eco Edition, The High-Rise Slim Boyjean: Eco Edition, Cali Demi-Boot Jeans: Eco Edition, Skinny Overalls: Eco Edition, The Shrunken Stretch Jean Jacket: Eco Edition
The launch is part of Madewell's fall 2018 lineup, which also includes new extended sizing offerings. Forty percent of the Madewell collection will be available from size 23–37 for jeans and XXS–3X in other clothes. See some of their eco-friendly denim offerings below.