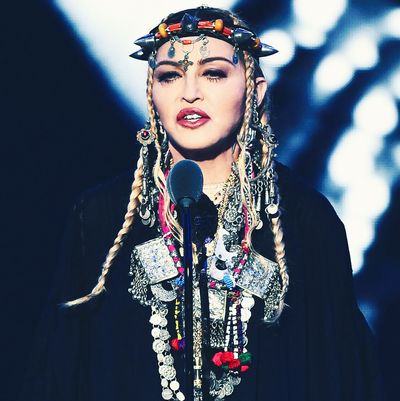 Madonna.
Photo: Michael Loccisano/Getty Images for MTV
Aretha Franklin died last week, and it was expected that the first awards show after her death would honor her in some way. The MTV VMAs 2018 managed to find … Madonna. The pop star gave a speech that was several minutes long, and was almost entirely about Madonna's own journey to fame — barely mentioning Aretha or her contributions to American culture.
After telling a long, meandering story about going on an audition unprepared, singing "(You Make Me Feel Like) a Natural Woman," and going on from there to find professional success, Madonna proclaimed, "None of this would have happened — could have happened — without our Lady of Soul. She led me to where I am today. And I know she influenced so many people in this house night. In this room tonight. And I want to thank you, Aretha, for empowering all of us."
Her speech, and its lack of any sort of real tribute to the Queen of Soul, didn't go unnoticed. Twitter users were quick to point out Madonna's overwhelming failure to talk about anyone but Madonna.
The next time Madonna makes a tribute to a late legend, she should put a bit more effort into centering someone other than herself.