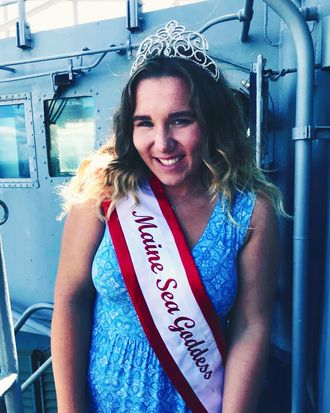 Taylor Hamlin.
Photo: Taylor Hamlin/Facebook
It is with heavy hearts that we must report that drama continues to roil the 2018 Maine Lobster Festival.
It all started last week, when 18-year-old Taylor Hamlin stepped down from her post as this year's Maine Lobster Festival Sea Goddess. Her resignation came after community members (snitches) sent the festival organizers photos of Hamlin vaping and smoking a joint. "Everybody is a teen once and awhile," she wrote in response. "I'm sorry to whoever didn't receive the goddess they wanted and felt the need to sabotage this amazing thing that has happened to me." Meanwhile, festival organizers called this "a terrible situation for everyone involved." Little did they know, it would only get worse for them.
Per the Associated Press, the organizers are now dealing with a massive backlash, including death threats. Celia Knight, part of the volunteer executive committee, shared the following story:
"It's been pretty brutal," said Knight, who said she and her family have been harassed even though she voted against stripping Hamlin of the title. "A so-called friend even said she was burning all of her lobster festival shirts."
The festival, which has been happening annually since 1947, officially ended on August 5. But the last few days were fraught with tension, with festival spokesperson Shannon Kinney saying there were "incredible amounts of negativity" at an event meant to "highlight our beautiful community and our lobster fishery."
Hamlin herself issued a statement condemning the public's reaction. "My intent was NEVER to apply hate to the festival or anyone involved in the set up and take down of the festival. I have grown up involved with the festival for as long as I can remember. I feel as if people are loosing sight of my purpose," she wrote. "Even though I thought it should be handled a different ( postive ) way. Everyone has their opinions about it but hate and negativity is not the answer." [sic]