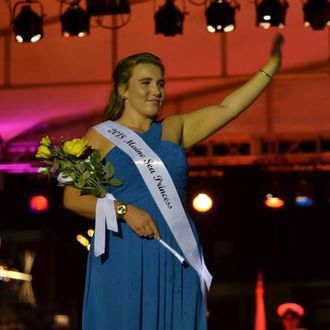 Taylor Hamlin.
Photo: Courtesy of Maine Lobster Festival
Maine in the summertime is a magical place overflowing with lobster rolls, wild blueberries, L.L. Bean paraphernalia, and hoards of white people visiting from Brooklyn. But a recent, troubling controversy has cast a pall on the Pine Tree State.
On Wednesday, 18-year-old Taylor Hamlin had the great honor of being crowned Sea Goddess at the 2018 Maine Lobster Festival. Mere hours later, she was stripped of her title and her duties because, as the Associated Press reports, members of the community emailed the organizers photos of her engaging in "inappropriate behavior." What, pray tell, did that consist of?
Well, per the Portland Press Herald:
One of the photos was from more than a year ago and showed Hamlin holding a joint. Another from a few days ago showed her holding a Juul, a device for vaping. 
The lobster festival released an official statement on Friday morning explaining what would happen next, in the face of this unspeakable, vaping-related tragedy:
Crown Princess Erin Dugan will assume the duties of 2018 Maine Sea Goddess, and it is our hope that everyone will support her in her new role. We wish all the best to Taylor Hamlin in her future endeavors. This is a terrible situation for everyone involved.
Hamlin, for her part, responded to the controversy in a level-headed Facebook post.
"Everybody is a teen once and awhile," she wrote. "I'm sorry to whoever didn't receive the goddess they wanted and felt the need to sabotage this amazing thing that has happened to me."