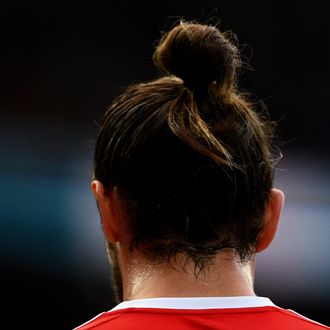 Man bun.
Photo: Stu Forster/Getty Images
A man named Sid Ouared claims that he was fired from British Airways because of his man bun. The New York Post reported that Ouared, 26, said that he was "discriminated against" by the company and fired because of the hairstyle he wore during the first week of training for his job as a customer-service representative.
"I got fired from British Airways because I have a man bun, which according to them doesn't comply with their uniform policy," Ouared said. "The fact that they dismissed me for being a man with long hair is ridiculous and sexist. They have discriminated against me."
The airline company declined comment on Ouared's allegations. Ouared, who is from London, asserted that he would not have been fired if he were a woman. "Right now we live in multicultural Britain. We live in the age of equality and we should be open-minded," he said. "But this stuffy old airline won't allow me to have my hair as I like it."
Here's hoping that Ouared's future employers are more open to the idea of men putting up their lovely, long hair into tight little top knots.