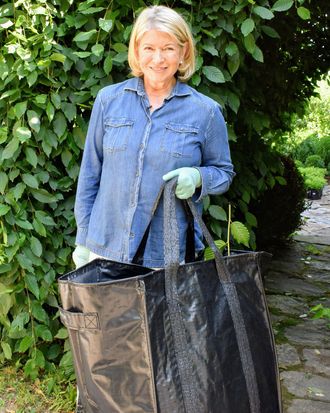 Martha Stewart.
Photo: QVC/Twitter
With fall around the corner, it's time to buckle down and make purchases that will really set you up for success.
Take Martha Stewart's multipurpose Heavy-Duty XL Tote bag, for example, which she debuted on Instagram this Tuesday as part of her new QVC collection. According to Martha, the bag comes in three colors (black, "Martha mint," and slate), and can be used outside in the garden and inside the house. At $39 for a triple set, it's a steal compared to Balenciaga's similar-looking XL tote bags, which go for thousands of dollars apiece. The real selling point, though, is that Martha's totes holds up to 47 gallons, or 930 pounds, of whatever the heck you want to put in it. And if it breaks (which it won't), Martha will replace it for up to two years. Think of the possibilities!
As QVC's promotional video demonstrates, Martha's XL tote can fit at least one large adult human, which makes it great for party tricks. Martha herself uses it to lug towels (not humans) to and from her pool parties, as well as to hold a large number of very small rocks, twigs, hay, and leaves. (It's "perfect for pruning.") In another video, Martha stuffs the tote with dog pillows, food, and toys before ferrying her Chow Chows off to a doggy hotel for the weekend.
"If you want to lug a lot of stuff anywhere, these bags are the bag," says Martha. Adding: "I just can't live without these bags."
We believe her, which is why we were inspired to compile our own wish list of multipurpose things we'd like to carry in Martha Stewart's Heavy-Duty XL Tote bags, below.
The entire contents of a farm stand at the Union Square Farmer's Market

A sturdy set of non-stick cookware

Saran-wrapped mozzarella balls that are still drippy

Folded linen napkins

A chevron-print ottoman that is exactly 20"L x 20"W x 24"H

Stacks of Kraft Singles sliced American cheese

Boxed red wine

Tree trunks that are also stools

177,914 grams of weed for Snoop

1,860 pounds of unsalted butter

Bricks of Martha's homemade meatloaf

An adult Lego set of the Taj Mahal

A large ceramic urn

Gourds

The entire boxed set of The Sopranos

A pickaxe, rubber gloves, bleach

All the boys we've loved before

930 other multipurpose totes

Ourselves
The only question is this: Who among us can deadlift 930 pounds?