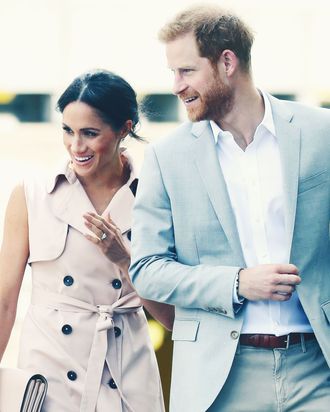 The royal couple.
Photo: Chris Jackson/Getty Images
It is a truth universally acknowledged that getting a dog is the ultimate relationship test — a furry stand-in for a human child. So it's only fitting that Meghan Markle and Prince Harry have added one to their royal family, as People reports.
According to People, the Royal Dog is believed to be a Labrador retriever, and has been accompanying the royals at their country house in the Cotswolds area and Nottingham Cottage at Kensington Palace since early summer. "The dog is already happily ensconced at their cottage," a source told the Daily Mail. "Like the Sussexes, the dog will divide its time between the palace and their country home in the Cotswolds."
The new dog will be the second among their custody; the couple also takes care of Meghan's rescue beagle, Guy, who only eats organic food and reportedly sat at Markle's feet while she had her makeup done for her wedding. Meghan's other dog, Bogart, unfortunately didn't make the royal cut; he was left with friends back in L.A., living a simpler life of beach runs and avocado kibble, we imagine.
We're waiting on photos of the new dog, as well as its name, natal chart, hopes, dreams, and perhaps the most pressing: its relationship with Thomas Markle Sr.
Stay tuned. In the meantime, we can speculate it'll look something like this: