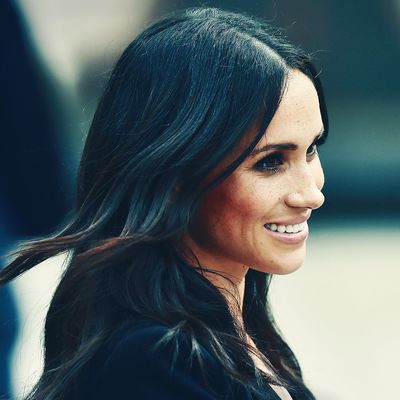 Meghan Markle.
Photo: Charles McQuillan/Getty Images
For the British royals, summertime generally means huddling under blankets at the Queen's estate in Scotland (at least, that's what Kate Middleton was pictured doing recently). But while the newest member of the royal family — Meghan Markle — has made the requisite seasonal trek to Balmoral, she's apparently also been going on secret trips this summer, including a recent visit to see friends in the wonderful city of Toronto.
We already knew that Meghan and her ginger husband, Prince Harry, were able to clandestinely fly down to Lake Como, Italy, to visit with George and Amal Clooney for a few days earlier in the month. Now, however, we also know that Meghan went incognito to travel to Canada recently to visit her stylist best friend Jessica Mulroney. Royal commentator Omid Scobie broke the news on Good Morning America (and also in a series of tweets):
It had been rumored mid-month that Meghan was planning on visiting Toronto, but that was around the time of her trip to Italy, so we all forgot about it and instead just focused on the idea of the Sussexes and the Clooneys hanging out. But according to Scobie, last week Meghan spent three days with Mulroney and her three kids, each of whom served in the bridal party of her recent royal wedding.
While we were surprised to hear Meghan had a clandestine Canadian vacation, the timing of it also makes sense. On Wednesday, Meghan (and Prince Harry) attended a charity performance of Hamilton — and it was reported (also by Scobie) that Mulroney had styled Meghan's Judith & Charles tuxedo dress.
Oh, friendship!