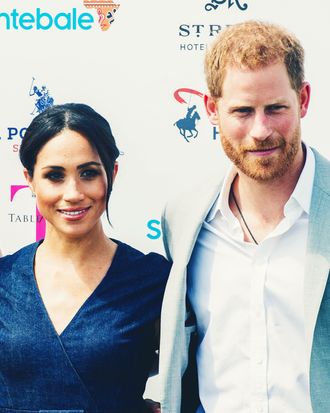 Meghan Markle and Prince Harry.
Photo: Samir Hussein/WireImage
Meghan Markle's father is not only a thorn in the duchess of Sussex's side — he's also become a major headache for the entire Palace, which is reportedly holding emergency meetings about Thomas Markle Sr.'s proclivity for talking to the British press.
The Mirror reports that the palace has held at least three of these "top-level crisis meetings" about how to stop Markle Sr. from creating incessant drama for his daughter. Since Markle wed Prince Harry on May 19, Markle Sr. has suggested that his daughter is miserable, criticized her "attitude," and even tried to pick a fight with the queen. For the most part, Markle has remained relatively mum, as she reportedly can't comment on the drama herself, but that doesn't mean that the royals are ignoring the tedious media spectacle that is Markle Sr.
According to a source who spoke to the Mirror, there are three options that Markle could consider in order to shut up her father: contact him "straight away and appeal to him directly to ask him to stop hurting her," have an intermediary meet with him, or cut him off completely. As of now, Meghan has reportedly chosen the third of these, but that situation could change, depending on any deranged interview Markle Sr. may decide to give in the future. All that matters to the Palace, at this point, is that the duchess of Sussex is happy.
"Meghan is deeply hurt by what is happening," the source said, "and everything is being done behind-the-scenes to make sure her welfare is at the top of the agenda."