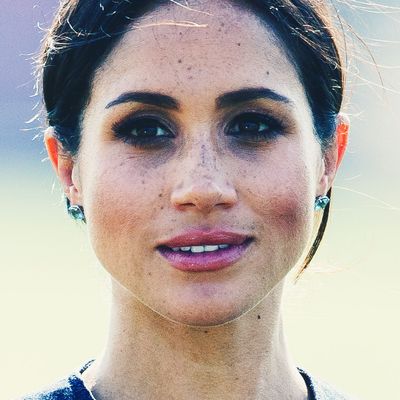 Meghan Markle.
Photo: Samir Hussein/WireImage
Meghan Markle's messy and estranged father, Thomas Markle Sr., has become a problem for the British royal family, as he's staged paparazzi shots and harassed his daughter in nonstop interviews with the press in recent months. Now, it's reportedly at the point where Buckingham Palace is "at a loss" over what to even do to stop him.
According to Entertainment Tonight, Meghan has not spoken with her father in ten weeks — since his tedious back-and-forth in the tabloids over whether he'd attend her royal wedding to Prince Harry or not. A source told ET that the duchess of Sussex is "still hurt" over his behavior, and the fact that he continues to give interviews with the British press (including an "exclusive" with the Daily Mail last week).
"The Palace is at a loss of what to do and is reevaluating options, including a more aggressive strategy to stem the embarrassment caused by Meghan's dad, half-sister and half-brother," the source said.
The news comes shortly after it was revealed that the palace has had at least three "crisis meetings" over the problem of Meghan's extended family — and it's at the point that Queen Elizabeth is even reportedly considering getting involved. But for now, it seems as though Meghan has been receiving comfort and support from her new family. She's also about to head up to the queen's Balmoral estate in Scotland for a vacation, for a trip filled with barbecues, sports, and extended family time, which sounds nice.
We can only hope Thomas stops talking long enough for the royals to at least enjoy their surprisingly normal-sounding summer vacation.