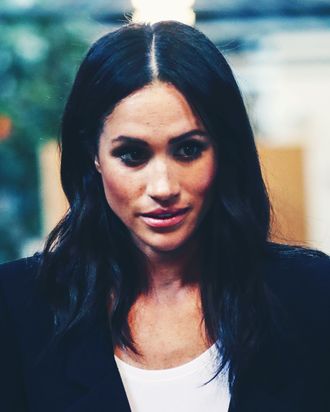 Meghan Markle.
Photo: John Rainford/Getty Images
This weekend, Meghan Markle's messy father — Thomas Markle Sr. — gave yet another interview to the British press: This time around, he claimed to have had a "heated" phone call with Prince Harry after it was revealed that Thomas had staged paparazzi photographs. Now, the Daily Mail reports the royal family is in a state of "existential crisis" over the nonstop drama.
The report came shortly after Thomas told the Mail on Sunday that Prince Harry called him after the photographs were first published, asking his bride-to-be's father whether he had actually staged the photographs (Thomas claims he lied and said no). Later, it was revealed the images were actually staged, Prince Harry called him again (while Thomas was in the hospital recovering from his alleged heart attack).
Thomas claims that, during this particular phone call, the prince said that if he had listened to the royals's earlier warning to avoid the paparazzi, "this would never have happened." Per the Daily Mail:
Mr Markle said he told Harry: 'Maybe it would be better for you guys if I was dead … then you could pretend to be sad.' 'Then I hung up.'
Although Thomas also vowed that this interview would be his last (okay, sure), the palace is reportedly struggling with its handling the whole ordeal. The Daily Mail's Richard Kay writes that the situation "is fast turning into an existential crisis for the Queen's family." Furthermore, royal aides believe Buckingham Palace's response to and handling of Thomas's drama has been "inept" and "feeble." A former aide, who worked on Prince William and Kate Middleton's 2011 wedding, told the tabloid:
"The perception is that he was treated very much as an afterthought. No one went to visit him when the answer would have been to have someone fly out from London and explain to him how things were going to happen. "
The aide added that the royal family previously brought Middleton's messy uncle — Gary Goldsmith, who has made headlines for alleged drug use and domestic violence — into the fold instead of ignoring him. "He was told he would be invited to everything but that if he felt inclined to speak out and give interviews, we asked that he let us know in advance so that we would be prepared, the aide said. "No one seems to have thought of that this time."