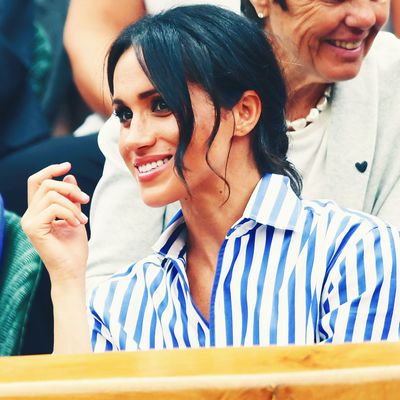 Kate Middleton and Meghan Markle. Not pictured: the queen.
Photo: Karwai Tang/WireImage
Meghan Markle may be dealing with the troubling nonstop drama of her extremely messy father, but at least she doesn't have to deal with it alone, friendwise. According to People, Meghan has not one, but two, close friends in the Palace helping her get through this trying time: Kate Middleton and Queen Elizabeth.
We already knew that the queen and Meghan had a friendly working/ familial relationship — they smiled at each other repeatedly on their fancy road trip, after all. There had also been reports that Kate is helping Meghan with royal fashion rules and regularly has her new sister-in-law over for tea, and then one time they watched tennis together (at Wimbledon, nbd). But we had no idea that these friendships were veering into "closest friends" territory — until now.
"What's characterized these months are the two great relationships that she has struck up with the Queen and with Catherine," a historical consultant for the Crown, Robert Lacey, told People. "They seem to be her closest friends and partners in the official set-up."
Lacey pointed to the fact that the queen's beloved corgis like Meghan (or at least, that's what Prince Harry said in their BBC engagement interview) as proof of their close bond. "That seems to be a metaphor for the Queen and everybody else has taken their cue from that," Lacey said.
We can't wait for the inevitable heartwarming pics of Meg, Kate, and Liz all hanging out together like the three best friends we just learned they are.