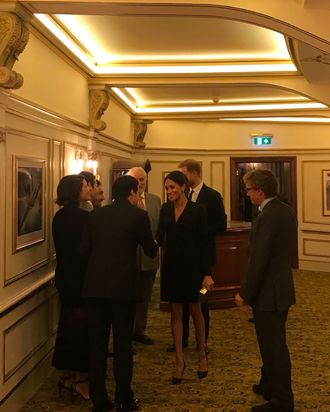 Meghan Markle and Prince Harry at
Hamilton
.
Photo: @Sentebale/Twitter
On Wednesday, the American-born member of the U.K. royal family (Meghan Markle, clad in a literal Canadian tuxedo dress by Judith & Charles) and her husband, Prince Harry, attended a gala performance of Hamilton … which is a musical about the American revolution.
Before we go on, I should clarify a few things. First, Hamilton is a very popular musical that Meghan has now seen at least three times (once with her friend Priyanka Chopra, and then again with Prince Harry back in February). Secondly, Meghan and Prince Harry were attending a charity performance of the musical, benefiting the Sentebale foundation that the royal ginger co-founded. But when you take those two huge factors, lock them away in your brain, and refuse to consider them, the fact that Meghan and Prince Harry went to go see this musical seems very suspect.
I haven't seen this musical, but I did take AP US History and listened to the soundtrack, so I know the gist of the plot: The American colonies wanted their independence, King George III whines a lot, there's a tea party, then the Revolutionary War, then Hamilton dies in a duel.
So what does it mean that Britain's own Prince Harry and the tuxedo-wearing Meghan went to see this musical (again)? Other than recognizing the fact that they were trying to raise funds and publicity for an important cause, there's no way to know … for now …