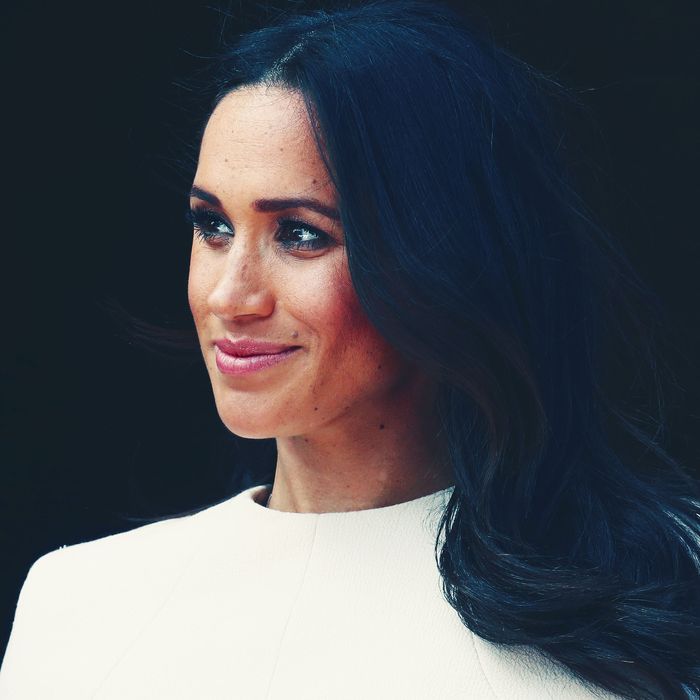 Meghan Markle.
Photo: Chris Jackson/Getty Images
We've spent the past three months since Meghan Markle's royal wedding to Prince Harry eagerly waiting for the opportunity to hear her speak in anything other than those smartphone video sound-bites shared on Twitter (even though that video of her new British accent was quite nice). And now, it looks like our wait is over: Meghan has finally given her first TV interview since formally becoming a royal.
The Daily Mail reports that Meghan will appear in a new documentary, which will be broadcast in September on ITV. The purpose of the documentary, unfortunately, isn't to allow us to hear Meghan solely chat uninterrupted for two hours straight; instead, the film will focus on Meghan's best friend Queen Elizabeth and the work the royal family has done across the Commonwealth.
For the documentary, filmmakers were apparently given unprecedented access to the Queen, following her around for the past year and speaking with her family and staff and visiting her various residences. Both Meghan and Prince Harry have given interviews to the team for the documentary, called Queen of the World.
Prince Harry has recently been named by the Queen as the Commonwealth Youth Ambassador and both he and Meghan plan to work on issues affecting young people in the Commonwealth, so I assume the interview is about all of that. The documentary will also feature interviews from Prince Charles, Prince William, Princess Anne, and other royals, so don't go around thinking the film is solely about the Queen and the Sussexes (my dream).
But as with her last TV interview (after news of her engagement broke), we can only hope Meghan somehow works her roasted engagement chicken into this one as well.