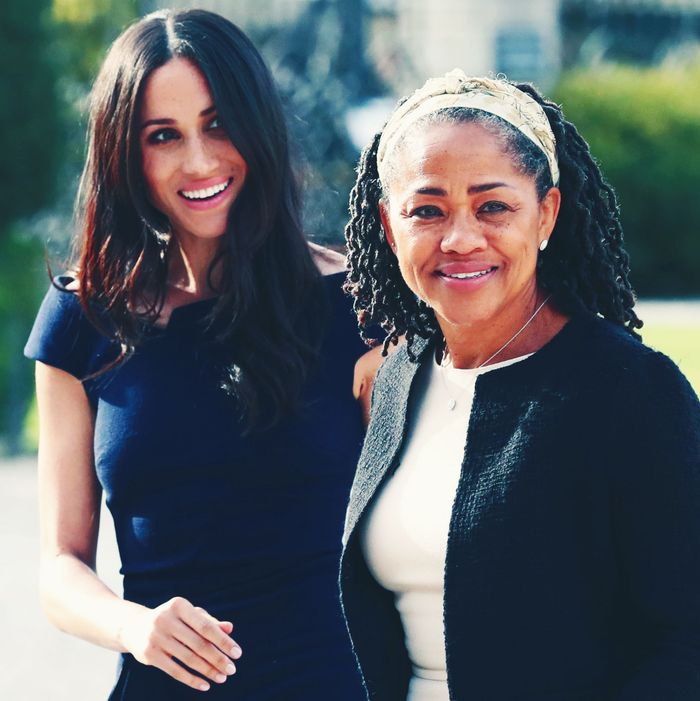 Doria Ragland and Meghan Markle.
Photo: STEVE PARSONS/AFP/Getty Images
Meghan Markle's extremely messy (and estranged) father, Thomas Markle Sr., has created non-stop drama for his newly royal daughter — from his constant interviews with the British press to his habit of picking fights with Prince Harry and … seriously … Queen Elizabeth. But now, it looks like Meghan is finally calling in the big guns: According to the Daily Mail, she might ask her (fantastic) mother, Doria Ragland, to sort it all out.
A "close friend of the Duchess" (who knows!) told the Daily Mail that Meghan is hoping to make a solo visit to California soon to visit with her friends and family. While there, she might use her vacation time to do some "damage control" regarding her dad. "It has just become so embarrassing for Meghan," the source said. "Like the elephant in the room when she's with people she doesn't know very well."
Part of that damage control, apparently, is finally asking her mother, Doria, for help. The Daily Mail notes that Meghan had been "reluctant" to get Doria involved in the drama with Thomas (Doria's ex-husband), but it seems that the situation has finally become dire enough to seek her help. The mysterious source told the Daily Mail:
"So far, Meghan's mom hasn't gotten involved, but that may all change when they see each other in person. Meghan has been adamant that her mom not get dragged into all the drama. But if anyone can talk some sense into her dad, it's Doria. Meghan is now open to the possibility of her mom working some magic behind the scenes."
Will Doria be the one who can finally put all this nonsense to rest? We'll have to see, but in the meantime, we have already heard that she is hoping to move to London to be closer to her daughter. So let's all say a collective "awwww" and be glad that Meghan has at least one good and supportive parent.