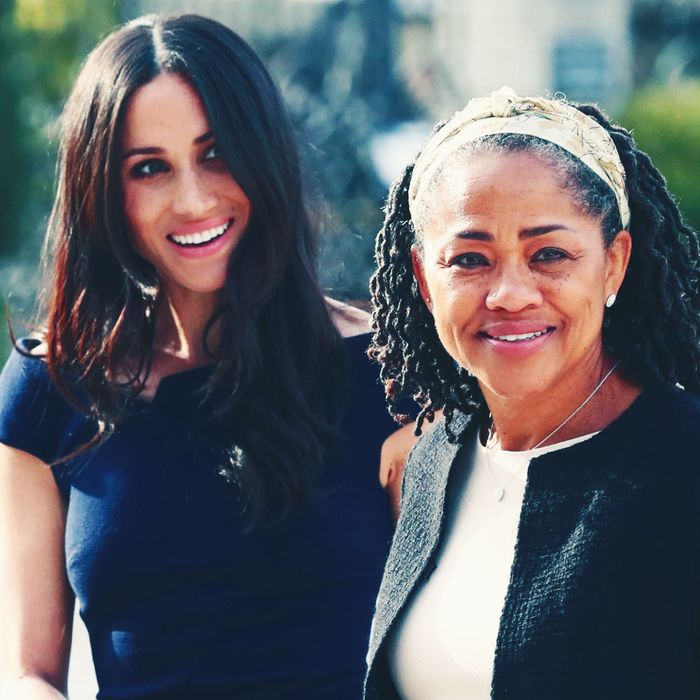 Meghan Markle and Doria Ragland.
Photo: Steve Parsons - Pool/Getty Images
With all the non-stop drama surrounding Meghan Markle's messy and estranged father, Thomas Markle Sr., it's always nice to be reminded that she still has a close and loving relationship with her mother, Doria Ragland. Today's reminder came in the form of a British tabloid report that Doria might be moving to the U.K. to be closer to her daughter. Aw.
According to Express, Doria is reportedly "beside herself with excitement" as she is apparently planning on moving to the U.K. within the next few weeks. The report claims Doria, who is currently based in Los Angeles and recently left her job as a social worker for the city, is hoping to move across the pond in time for her 62nd birthday next month. A "friend" told the tabloid:
"She is getting ready to move to London. I think she will be going as soon as possible. I know that she was eager to live closer to her daughter."



The "friend" also told Express that Doria's impending move may have been "coming for a while." The friend continued, "She also fell in love with England and told me when she got back that it's somewhere she believes she too could happily live." The friend added that "even before the wedding she told me how she misses her Megs so much she would do anything to be closer to her, especially now that Meghan will be starting a family of her own."
Well, as this is a tabloid story, we should all take it with a grain of salt. But I do hope it's true. During a time when her horrible father won't stop talking to the press and is presumably making life difficult for her, Meghan deserves to have her sweet mom close by.