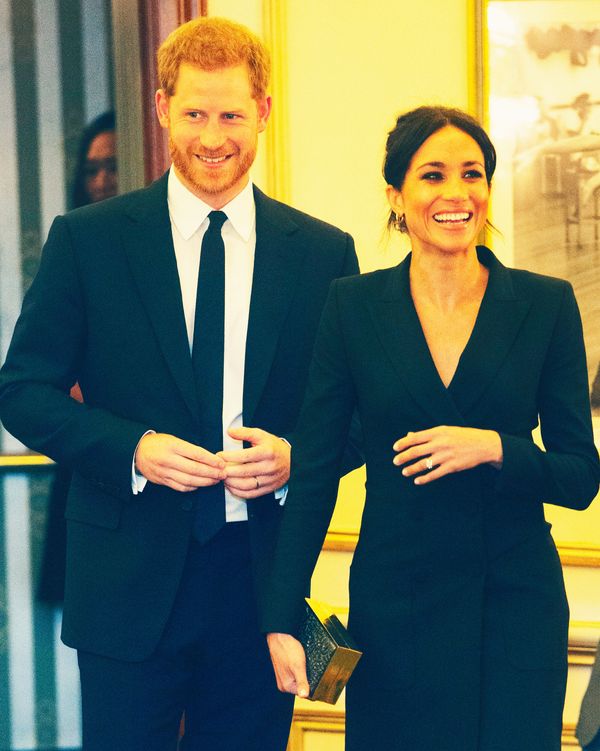 Prince Harry and Meghan Markle.
Photo: Dan Charity/WPA Pool/Getty Images
It's August, so most of the royals are on vacation or just not doing many fun things for me to write about. Rude. But luckily, Meghan Markle has thrown me (yet another) a bone: She inadvertently revealed her nickname for Prince Harry while attending a charity performance of the musical Hamilton. Thank you, Meghan.
So what exactly is this elusive (lol) nickname? Well, it's the last day of a truly brutal August and the heat has almost officially destroyed my (and probably also your) will to live, so let's liven things up and play a little game.
Is it:
• Ginger?
• Henry (a reverse nickname, as his full name is Henry, not Harry)?
• My partner?
• His Royal Highness the Duke of Sussex, Earl of Dumbarton and Baron Kilkeel?
• My love?
• Hair-y?
• The spare?
And the answer is … official royal drumroll please … "my love!" Meghan (whose own nickname we already know is "always going to be Meg") was heard using the adoring pet name after the curtain call at Hamilton, when she and Prince Harry took to the stage to take photographs with the West End cast (and also he sang a bit).
During the photocall, Meghan was heard saying to Prince Harry, "Can you see, my love?" Then, after cast members said "Aw," Meghan looked flustered, laughed, and put her hand to her chest, as if she were embarrassed that she called her husband a very common pet name for people in relationships. Here is a video of the incident:
Well, I, for one, "love" this nickname, and look forward to hearing her say it many more times for the rest of my life.